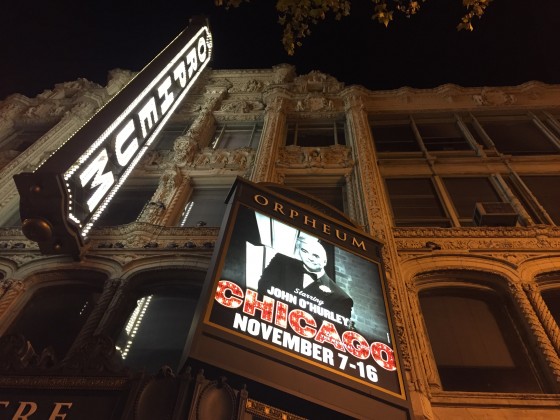 Katie was out of town, so I got to go with Brittany to SHN's Chicago tour. I'm a big fan of musicals, and I think more people would be if they gave them a chance. Chicago is a great entry point, with its relentless energy, dark humor, sexy style and classic Fosse pizazz. This cast was great and the show was a whole lot of fun. If you really need another nudge, Seinfeld's J. Peterman (John O'Hurley) has awesome personality as Billy Flynn, and of course, Bianca Marroquin is amazing as Roxie. Here's Brittany's report: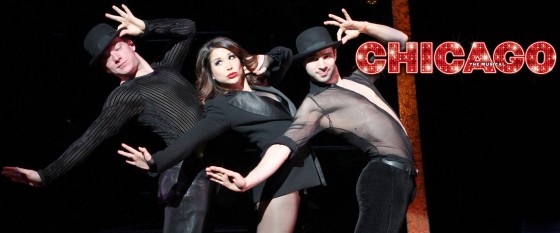 [via SHN]
Thanks to the 2002 film version of the Broadway classic Chicago most people have an idea where they stand when it comes to this play. Since Broadway touring casts tend to be pretty uniformly great, we thought rather than do a normal Drama Talk & Drinks review of the show, we'd go backstage and give you some insights into why you might want to see this current production in particular, now open at SHN's Orpheum Theater until November 16th.

After a quick backstage tour, we sat down with Christophe Caballero, swing and understudy for Mary Sunshine, and Adam Pellegrine, who plays Harry, Martin Harrison, and is part of the ensemble, to talk about what it's like to perform in SF and what's special about this current production of Chicago. Skip to the end if you want our quick and dirty assessment of the show, but Adam and Christophe had some fun things to say.
Brittany: What's it like to perform for a San Francisco audience?
Adam: I love this city, I've been here a million times, but I've never gotten to perform here, so I get to check that off the bucket list. The audience was incredible tonight, they were ripping their seats off the floor. What I loved is they were laughing at lyrics that audiences don't normally laugh at because they're listening. [Musician John] Kander and [lyricist Fred] Ebb did such an amazing job with this show. It's a masterpiece. People will hum the songs, but they may not really listen to the words. This audience was smart and they were listening, and it was great.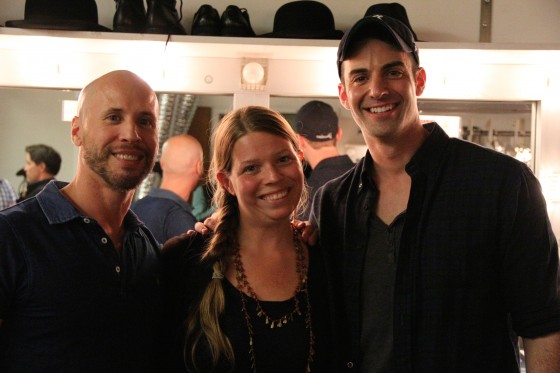 [Christophe, Brittany & Adam]
Christophe: I was at the back of the house because I wasn't on tonight, but I was enjoying the audience as much as the show. They were laughing at all these little things.
B: So the show opened tonight, and I heard many of you just got here yesterday, have you had the chance to make it out in SF yet?
A: Yep, already went out. I went to the Castro last night. Got some two-for-one drink specials. People are very hospitable in this town! (laughs)
C: I got to go to dinner in Oakland with some friends last night at a lovely Italian restaurant. Today I look a class at Alonzo King Lines Dance Center, where I'll be teaching next Friday (November 14th), so I did that.
A: Oh, the responsible one!
C: Oh, I'll be going out! A lot of us are going out Monday night to The Edge in Castro. They've asked some of the ensemble guys to sing. So a few of us will be singing a couple songs each, and hopefully the company will be coming to support that.
B: Both of you have been with this tour for a while. How has this show evolved since you began?
A: With each new company the show is a different animal. This show allows not just the leads to stand out, but every ensemble member. They don't hire a faceless dancer, they hire someone with a personality. Every company is different. I can say this company in particular, and this is my seventh contract, this is a phenomenal group. Everyone is on point and passionate, and it shows.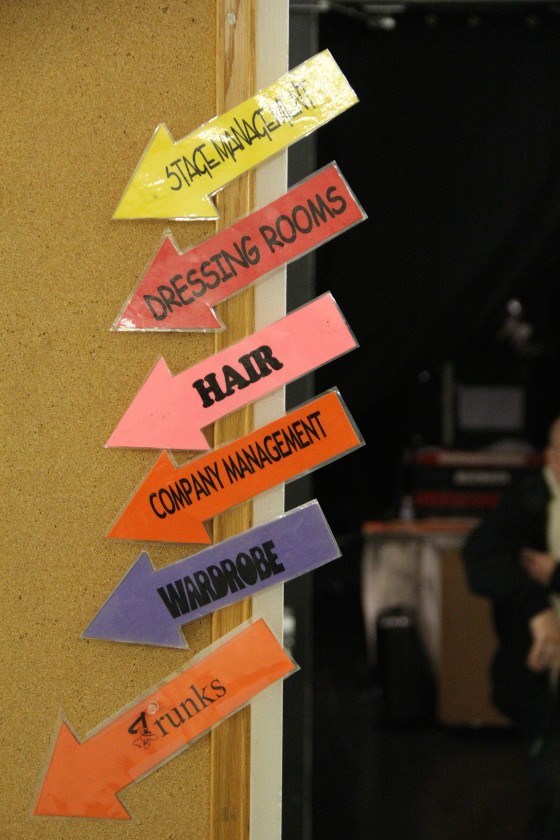 C: The great thing is every time this show is reorganized for a tour, you get veterans like us, we call it alumni, and some new people, and that is a great mix. You get people who can lead a little bit, showing the way of the style, or at least we have some great stories about fiascos, and then you get the new energy. The show has evolved, especially this tour. For the first time in a long time Ann Reinking has come back to Broadway and changed certain moments of choreography of the show, and that's reflected in the tour.
B: Like what?
A: If you know the choreo, the entire end section of Gun is new. And the entirety of Razzle Dazzle is new.
C: The basic structure is still there. I just did last year's tour, so sometimes my body will just want to go into one movement, and it's not that any more. So it keeps you on your toes and keeps it fresh. This show's been running 18 years, so changes keep it fresh. All the restructuring and reworking she did really changes things, I think in a really positive and wonderful way.
B: Do you feel like you're discovering things about the play after all these years working on this?
C: When someone does something completely different, like Bianca (who plays Roxie) will sometimes mix it up, and I'm like "Oh no she didn't", and it makes a joke pop. Or when you get new ensemble members, it's always exciting to see what they'll do to make it their own.
A: Our principals are amazing, they're never phoning it in. Every night I feel like Bianca is rediscovering her monologue, and you're always entertained.  I'm always entertained. I know what the punchline is going to be, but I always laugh because I'm watching her find it. Every moment you're on stage as an ensemble member, you're a different person, and you're part of the scene. You can be in the cell block, you can be in the court room…
C: Yeah, you're on call and in the scene the whole show, so that keeps you focused and learning…
A: And it keeps things moving. The show is 2 and a half hours and it goes like that! (snaps)
B: Any parting shots? What's your final selling point for this show?
A: My selling point would be, there's a reason it's a classic and it's been running for 18 years. It's still cutting edge, it's still super present and fresh. It's just a good time.
C: I think what's great is this show takes a look into the whole idea of false celebrity. It's so relevant now. With so many hit shows on TV being reality shows, I think exploring what can turn a normal person into a celebrity, and what it does to them, is a really interesting. That desire to be a celebrity. This show is about a woman who will do anything, including murder, to become a star. So not only are you laughing your ass off, you're enjoying amazing music, gorgeous bodies, great dancing, but you're also getting a glimpse into that conversation. If Paris Hilton could play Roxie Hart we'd be set for life.  So I think that's a pretty good reason to see this show too.
The Verdict: The boys are right. This show is just a good time. If you like Chicago, you won't be disappointed.
The Drama Talk: Everyone in this show is indeed on-point, but particularly Bianca Marroquin who plays Roxie Hart. Of course she's a triple threat, because you can't play Roxie without being an amazing singer, dancer and actor, but the specificity and exuberance which she brings to Roxie really made the show. In a musical where it's hit-song-after-hit-song it can be hard to make really human characters, but she succeed in creating a deeply imperfect but endearing Roxie. If you're a Seinfeld fan it's also pretty cool to see Seinfeld's J. Peterman (John O'Hurley) seamlessly pull of the role of the sleazy but successful lawyer, Billy Flynn. He's got a great voice and knows exactly how to razzle dazzle a crowd.
The Drinks: We got to crack open a few bottles of wine with Adam and Christophe, so we didn't need a bar after the show. But if you want to keep the 1920s vibe going head over to Bourbon and Branch, which is a short hike away, and pretend you're still living in those speakeasy jazz fueled days.
Chicago runs through November 16th at SHN's Orpheum Theater. There are currently some $50 tickets available on Goldstar or you can always purchase tickets directing on SHN's website.