Katie & Brittany saw Pippin, yes Pippin, and really liked it! It sounds pretty sweet. And while we're (they're) speaking (writing) of Bob Fosse and Ben Vereen, check out The Jazz Singer, the final scene is one of my favorite in all of cinema. Here's their report: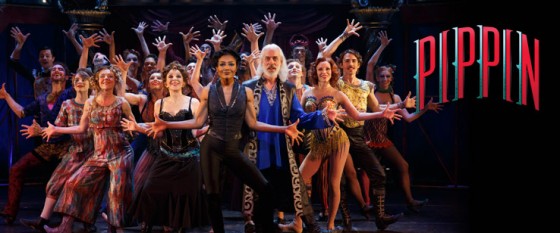 An over-educated privileged youth graduates college and desperately searches for something meaningful to do with his life. He tries war, drugs, casual sex, Burning Man-esque orgies, social revolution, religion, and even farming, but still feels unfulfilled. This may sound like every millennial we love to hate, but this time the youth is a prince, the son of Charles the Great, the Ruler of the Holy Roman Empire, and his ennui is the driving coming-of-age story behind the 1972 hit musical Pippin, which won the Tony for best revival in 2013. This lesser known Broadway classic has oddly been Brittany's favorite musical since she was a little kid (maybe she identified with the privileged angst), so when we found out the tour was coming through SF, Drama Talk & Drinks had to go.
Katie: Wow, so I had no expectations walking in. It's a musical I've heard nothing about, aside from what you've told me. So the whole time I was like WHAT! There was a lot going on, and I was a bit overstimulated, but not in a bad way. It was a lot of fun. A real spectacle. It was spectacle spectacle spectacle until the end, and even that was spectacle. I kept trying to guess what the original was like.
Brittany: AWESOME! Yay, I'm glad you liked it. I come into this show with the craziest bias, because I'm pretty sure I'm one of the only people under the age of 30 for whom this is a favorite musical. I watched the movie of the original with Ben Vereen in it at least 100 times. So whereas you were trying to figure out what was revival what wasn't, I was thinking, "Okay, that dance is the same", "WHOA, that's different", throughout the whole show. It was great seeing what a fresh take on this show can be, and I liked it!
K: Did you think the circus part, which was the new artistic spin they put on it for the revival, aided the story?
B: I don't know how much it helped the story along. It made it a little more frenetic, and it made the play a little longer, but I do think it makes it a more appealing ticket to a contemporary audience. Shows like Cirque Du Soleil are such big sellers, and the circus performers in this are crazy talented, so it provides the extra splash to make it more sellable. This has a much stronger story than any Cirque Du Soleil kind of show though.
K: I know what you mean by frenetic, that orgy scene was crazy. I was a little uncomfortable. It looked like someone was going to get hurt, and I couldn't tell who was doing what to who.
B: Yeah that's a great example of a scene that felt really different with the added circus element. It sped the scene up, and made it a little less sensual and more crazy. I'm not sure if it played as well as the original.
K: I mean I'm all about the orgy, don't get me wrong.
B: Oh me too. What's interesting to me is even though this show is still raunchy, it felt like circus made this production a lot less dark and sexual. It got more spectacular, but a little less risque.
K: I was pleasantly surprised by the end. This show is definitely not my typical style, but I was very entertained the whole night. It totally makes sense to have drinks before hand, so I'm glad we did. A lot of crazy shit was going down on stage, and I just wanted to sit back and enjoy it.
The Verdict: Go see it! It's got jazz hands, sexy costumes, death defying circus feats, insanely good singers (Leading Player is played by Sasha Allen who was seen on Season 4 of The Voice, and damn can that girl sing), and a timeless story. It is a musical that was written in the late 60′s, and opened in Broadway in 1972 and the play definitely has that feel. Think Hair, but with a little more plot, jazzier songs, Fosse choreography and a circus act thrown in to make it even more fabulous.
The Drama Talk: If you've obsessively watched the film version of the original production of Pippin with Ben Vereen, your standards for Leading Player cannot possibly be met. But aside from Brittany, no one has ever done that. Athough Ben cannot be replaced (seriously does he have rubber bones? Who can dance like this?), this revival does the original show and Bob Fosse's choreography justice, while adding in a spectacular circus spectacle. The role of Berthe, Pippin's grandmother, performed flawlessly by Lucie Arnaz in the production we saw, is delightfully re-imagined to include sexy aerial swinging. John Rubenstein, who originated the role of Pippin in the original 1972 Broadway production, makes the perfect Charles, knife throwing and all. This show is sexy, fun and fast, but like any good musical has a deeper message beyond all the magic shows, mirages and colored lights.
The Drinks: Pippin is a show about fabulousness, and any show about fabulousness is best seen in a celebratory state (aka after having had a drink). We also knew it had a nearly three hour run time, once you add in the intermission, so we decided to do our drinks before the show with dinner. It's our summer now, so we choose to eat around the corner al-fresco at 54 Mint, and had a couple glasses of rose to start our evening.
Discount tickets for Pippin are currently available on Goldstar for $55-$60, but not for the entire run yet. Andrea Martin, who won the Tony for her performance of Berthe in the 2013 Broadway revival will be reprising the role for the last two weeks of the SF tour (Oct. 7-19) so the Goldstar deal may not be available for later dates. Full price tickets are always available ranging from $210 – $45 on the SHN website. Pippin runs through October 19th at the Golden Gate Theater.