We'd heard about epic productions of classics being done to rave reviews at Bay Area parks before, so when We Players latest show Ondine, staged at Sutro Baths, came to our attention we knew we had to check it out. Katie's not much for the cold and wind, so Brittany and her boyfriend, Sam, donned their layers and took off for a cliff side afternoon of Drama Talk & Drinks.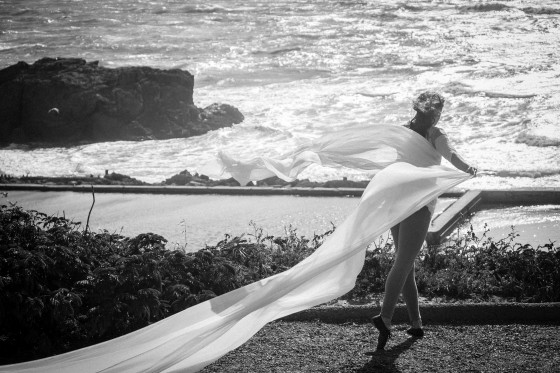 Brittany: So what did you think?
Sam: There are too many words in the English language for me you to tell you what I think. I'm exhausted.
B: Me too, I enjoyed it though. Not necessarily my favorite script, which is surprising given my love for The Little Mermaid, but it was a really cool production.
S: I enjoyed being led through the forest. It's fun to just give yourself over to the world of the play. The first act was great because it introduces you to that world, the second act was charming and funny and they give you snacks, but the third act got long.
B: Yeah, I was content listening to cool music and seeing beautiful stage pictures, when it tried to get into the drama it kind of lost me. They had to stick a lot of complicated fairy tale sadness into that final act.
S: That trial was no fun for anyone.
B: Despite the overly complicated ending, I still think its a good show. I'd tell people to see it.
S: Me too. Between the views, the amazing movement work, and a handful of really great actors, I think it's totally worth it. Besides it's not often you get a workout watching theater.
The Verdict: Put on your walking shoes, you'll need them to check out this beautiful show. If you don't like stairs, or cold, or sitting on the ground this play will make you pretty uncomfortable. If you love Sutro Baths, are game for walking up some hills, and like classical theater, we think you'll enjoy this innovative production.
The Drama Talk: You can't get a more beautiful set than Lands End and Sutro Baths. If you love this park, it's really fun to fall into the world of the play and imagine that the water spirits walking the hills are real. It's not surprising that Ondine is rarely produced, its not the greatest play. It's a very long (the show is 3 hours) retelling of a simple fairy tale which is both predictable and unnecessarily complicated. We Players, however, does it beautifully. Ava Ray's performance of Ondine was fierce and delightful. The chorus of women who played Ondine's sisters were eerie and created some of the most striking stage pictures we've ever seen. Admittedly, we're a sucker for place based immersive theater, but We Players also really knows how to do it.
The Drinks: The most convenient cocktails after the show can be found at Cliff House, but we were walking to the N Judah, so we opted for the always cozy Park Chalet for post-show drinks. We snagged a seat near their fireplace to warm up, ordered a flight of all their house-made brews, and toasted to an adventurous afternoon of cliff side theater.
Ondine has been extended through June 14th, with performances Fridays, Saturdays and Sundays beginning at 4:30pm at Sutro Baths. When you get your tickets they send intensive instructions on what to prepare for (hiking and cold) so you'll know what to do.  Tickets are $50-80 per-person and available through the We Players website, and are already almost entirely sold out. They give you fancy water and treats during the show too, so if really cool theater isn't enough, there's that.  Also if you really can't afford it, they say to email them and they'll see what they can do.