Katie & Brittany sat down with Eric Reid, who is starting a new theater company aimed at providing meaningful roles for people of color. Which is awesome. SF has a real diversity problem. Specifically, the African American population is disappearing. And there is far too little effort being made to address this. Eric missed a World Series game to talk with them, so the least you could do is look at his flyer (below), which is also awesome. Here's their report: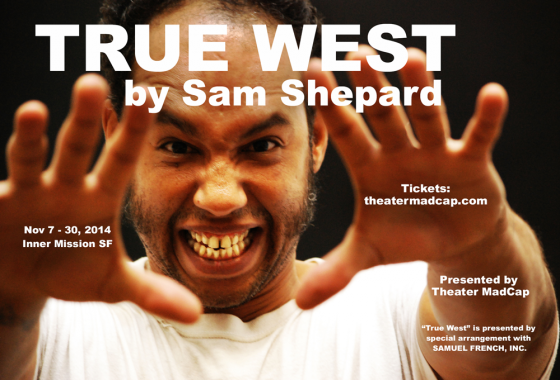 A press release came across our inbox about a new-to-us theater company called Theatre Madcap that was doing a "deliberately diverse" production of True West. Even though we knew we couldn't make the show to review it, we were intrigued. So we asked the Co-Founder and Artistic Director, Eric Reid, to coffee to tell us about his company and his show.
Katie: Tell us about Theatre Madcap.
Eric: We started it, my wife and I that is, about 2 and a half years ago. We started it really because as a black actor I'm frustrated that I can't find a lot of roles for myself, or If I'm auditioning for something it's always "ethnicity ambiguous" roles, nothing really for black folks or persons of color at all. So I thought if it's going to be hard to be in theater, I might as well do it myself and struggle for moi.
Brittany: What have you been working on so far?