Our theater reviewers, Brittany and Katie, got the chance to sit down with an actor in the production of the SHN show, Priscilla, Queen of the Desert. The musical, which opened last night, is based on the 1994 Australian movie of the same name. The film starred a young Guy Pierce, a young Hugo Weaving and relatively young Terrance Stamp.
The touring show now playing at The Orpheum stars Scott Willis as Bernadette, the Terrance Stamp character. Read their interview from El Rio after the jump, and their review of the show next week.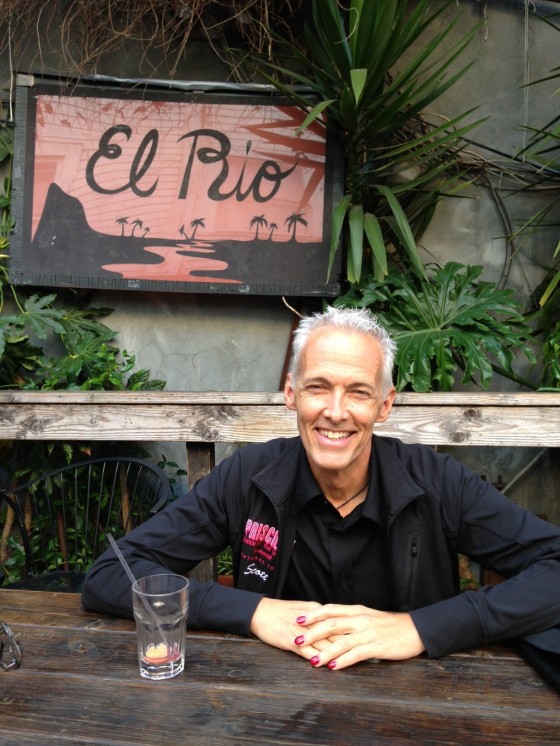 [Scott as Scott, by Katie]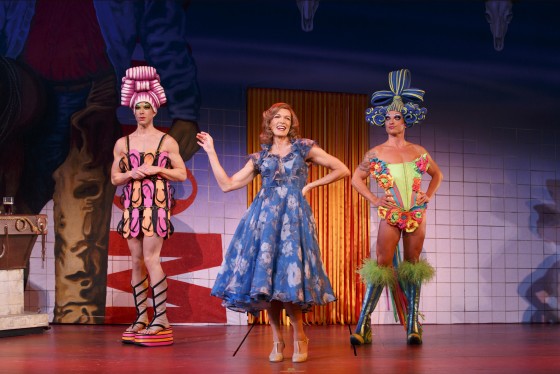 [Scott, center, as Bernadette via SHN]
We love talking theatre over drinks, so when the folks at SHN offered us the opportunity to sit down with Scott Willis who plays Bernadette, one of the trio of fabulous friends in the upcoming tour of Priscilla Queen of the Desert opening at the Orpheum, we of course jumped at the opportunity. Priscilla is a show about drag, so we headed to El Rio, home to one of our favorite Burlesque shows, and Hard French, one of the best queer friendly dance parties in SF, for some pre-show Drama Talk and Drinks.
Scott met us in the back patio in plaid slacks and a black zip up Priscilla: Queen of the Desert track jacket and freshly manicured pink nails. He was extremely friendly and began diving into it without even needing to be prompted – gotta love actors for that. Before we could even ask: What do you think of San Francisco? As he sat he began:
Scott Willis: I absolutely love San Francisco. Almost every tour I've done has played here, and I haven't been in this neighborhood as often as I should have been. I love coming back here. I really thought this is where I wanted to live but I didn't know any actors that could make a living just doing acting. They all have to have some other kinda job, doing print work on the side or be a waiter or something, and that just wasn't for me.
[He went on to talk about growing up in the South and living in New York for the past 30 years...we couldn't fit the entire hour and a half interview here, but it was good]
B: Is there anything that makes you particularly excited about performing Priscilla here?
SW: This is maybe my 5th or 6th tour, and this will be my first time at the Orpheum so that's exciting. The thing that excites me most about coming back here, is that this city is special. The people are very special. There's a warmth and there's an acceptance of one another that's very rare. Because of that mutual respect you all have for one another, it's just a beautiful city…San Francisco wasn't on our schedule for a long time and when it finally came on everyone was like "Oh My God! We're going to SAN FRANCISCO!"
[Unfortunately, however, his company couldn't find a hotel to house all the actors in the show so they're staying in Oakland and commuting in every night to perform. Great timing for a bridge closure. Scott, however, is staying with a friend in Pacific Heights]
K: How's Priscilla being received across the country? Are there regional differences?
SW: I've done a lot of really big, really wonderful shows…But Priscilla, we get a lot of LGBT groups who come to us and are so excited "You're coming to our town and you're telling our story." and we are, and I think it's wonderful. But for me it's such a universal story because it's about three friendships…I'll start crying…I will…it's about friendships and taking responsibility…Don't all of us have two friends who you'd just love to leave everything behind, your husband and your kids, or your work and just go off with them somewhere, anywhere and have a blast.
[Scott did cry, it was sweet]
K: Heck Yes!
SW: The other thing about our show is, unless you're a white-male, you're in a minority. Even white males are a minority, they are just the ones to make the rules. Anyway, everybody really just wants to be the same. Women want to get paid the same, gay people want to get married like everyone else. But within our own minorities we look down on each other. Even within the gay community, it's like "No you have to be wearing leather chaps or you don't get in here", and it's like "Really? But I'm one of you?" Because of the things the three friends go through with one another in the play, and the gradual acceptance of our differences, we all come out in a better place at the end and love each other. That's a universal thing too.
[At this point the El Rio happy hour was getting happier. A group arrived and sat at the table next to us making themselves heard by their noise level and THC levels - Scott was completely unfazed...gotta love actors for that]
B: What's made this tour successful?
SW: The first day of rehearsal they told us that we're not going to shy away from what it's about…we're publicizing it for what it is, a big gay show. They were excited about getting the tour and it shows.
[This show takes 9 tour buses to house all the 500+ costumes and the set. The costumes are supposedly amazing, which won the show the 2011 Tony Award for Best Costume Design]
K: What is the typical audience?
SW: Everybody's there. People with walkers, young people. It's really surprising. I mean everyone knows the music, you know it, but it's not really your generation, it's more my generation. So I knew that would appeal to people. But of course my generation has more hang ups than your generation, so why would they be there in the first place? If you know it's about drag queens why would many people want to come? Unless you've seen the movie. But there are lots of different people, and it's great.
B: What has surprised you about your experience with Priscilla?
SW: Priscilla has helped me give myself permission to do things I maybe wouldn't have done. The night before my first audition, I had done all this work. I was going to have to go to a drag call because all the other auditions were over. I'd been working on my arrangement so no pianist could possibly mess me up – If I was going to be in a dress I was going to be in control as much as I possibly could be.
The night before, I shut my computer down and I thought, you can not go to this tomorrow and be bad. If you're bad you're gonna look like a guy who just wants to wear a dress, and that's not what I wanted, I wanted a good job. So I almost backed out, and I thought you know what, you are afraid of being in drag. I knew I couldn't leave my building in drag because my doorman and my concierge – they love me, but it would change our relationship. So I got a hotel room two blocks away from where I was going to audition. I had scoped out where to walk so I would see the least number of people being midday in a dress in manhattan near Penn Station.
I realized I really was just afraid and I thought "Oh my god, you are 52 years old and you're afraid of something?" When does that stop? Then I said to myself "Scott, you don't have to audition tomorrow but you do have to be in a dress." So I did it! And it was a very positive experience, all the callbacks and everything couldn't have gone better.
K: Has it changed you in other ways?
SW: I have such a new appreciation for what women have to go through because I have to do it every night…There is so much to do, getting into panty hoes alone is harder than going to the gym. At least for me it is. Then if you have to go to the bathroom, forget about it!
I look a lot like my mom when I'm made up, and back when I had that first audition I finished my makeup and I looked in the mirror and it was like I saw my mother looking back at me. I've always had a great appreciation for my mom, but I have even more now I see what women have to go through. And then there's the heels!
The Verdict: Scott is wonderful! We will see the show tonight and let you know next week if the show is too!
The Drama Talk: Priscilla, Queen of the Desert runs August 21-31 at the SHN Orpheum Theatre. At the moment there are tickets available on Gold Star for $55, Once those are gone, for tickets go to SHN's site or call 888-746-1799.
The Drinks: Scott, appropriately, had a cosmo. Brittany and Katie defaulted to their usuals: gin and tonic for Brittany, rum and coke for Katie.