Welcome to the second installment of "Drama Talk & Drinks", a new feature here on Mission Mission. Our friends Katie Cruz and Brittany Janis go see a local show, then they go to a bar, get drinks, and talk about it. Here's their report: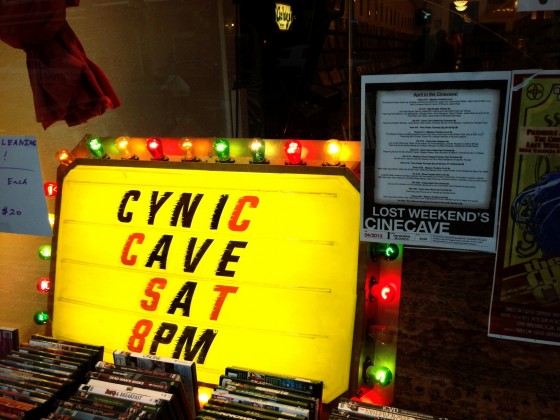 [pic by Katie Cruz]
Rumor had it something funny was going on under Lost Weekend Video. Last year they opened The Cinecave in their basement, and now they're hosting a variety of awesomeness, including some of SF's funniest. Last Saturday we decided to check out their Cynic Cave Comedy Show featuring Bucky Sinister, Shanti Charan, Red Scott, Kelly Anneken and Miles K hosted by George Chen and Kevin O'Shea. Here's our drama talk:
Brittany: The host (Kevin O'Shea) was awesome! I loved that he started with "This is the most fun you are going to have in a basement in 2013" because I think that is true. I haven't had that much fun in a basement in a while.

Katie: I definitely didn't feel lied to, which is always nice. Shockingly good for $10.

B: I thought it was funny. I was super nervous that it was going to be a bit of a mess, 'cause it seemed unorganized when we first got there, but once we got downstairs it all made sense. It's a really good space; laid back, cozy, basement-y atmosphere.

K: Really intimate.

B: So, who was your favorite comedian?

K: Um – oh god, I'm not sure – the comedians were so diverse, I liked them all for different reasons.

B: I also appreciated that there were two women comedians, and usually I don't think woman are very funny, which I guess is bad on my part, but whatever THEY (Shanti Charan and Kelly Anneken) were both surprisingly hilarious.

K: I really liked the last guy, Miles K – he was ridiculously funny. I'm not gonna lie, anytime a comedian talks about how they hate being single and the horrors of OK Cupid and online dating I wanna raise my hand and say "No need to roll the dice online and meet random girls that most likely look nothing like their profile pic, I'm a random single woman right here in front of you – way less work". But that's a lot to say out loud…to someone I don't know, in the middle of a show, so…

B: You should have.

K: Maybe next time. I can't believe that Cinecave has been around for a year and we haven't heard about it.

B: And that there were seats left! There are so many things in the Mission now where you spend a lot of money and don't necessarily have a great time, when there is something that is affordable AND you can have a great time it should be packed…Maybe we shouldn't tell anyone.

K: You're right. Let's stop this review – no one needs to know.

[Bucky Sinister by Katie Cruz]
The Verdict
Go see it! This will be the best $10 you've spent to hang out in a basement!
NEXT Shows
Saturday 4/20 @ 8pm
Saturday 4/27 @ 8pm
The Drama Talk
The basement is cozy, if you want to be cozy too get there early to snag one of the cushy theatre style seats. Otherwise you'll get stuck on a metal folding chair. No matter what, this is the most fun you'll have in basement in SF.
The Place to Drink
After kicking off the evening at Cinecave we wanted a straight forward dive bar. We chose Mission Bar for the comfy booths, laid back atmosphere and cheap drinks.
The Drink
This is comedy in a video store basement and drinks at a dive bar, order simply. We had a rum and coke and a vodka ginger ale.