Welcome to the second installment of "Drama Talk & Drinks", a new feature here on Mission Mission. Our friends Katie Cruz and Brittany Janis go see a local show, then they go to a bar, get drinks, and talk about it. Here's their report: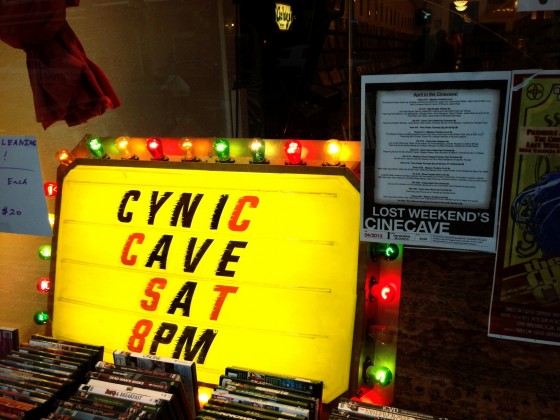 [pic by Katie Cruz]
Rumor had it something funny was going on under Lost Weekend Video. Last year they opened The Cinecave in their basement, and now they're hosting a variety of awesomeness, including some of SF's funniest. Last Saturday we decided to check out their Cynic Cave Comedy Show featuring Bucky Sinister, Shanti Charan, Red Scott, Kelly Anneken and Miles K hosted by George Chen and Kevin O'Shea. Here's our drama talk:
Brittany: The host (Kevin O'Shea) was awesome! I loved that he started with "This is the most fun you are going to have in a basement in 2013" because I think that is true. I haven't had that much fun in a basement in a while.

Katie: I definitely didn't feel lied to, which is always nice. Shockingly good for $10.