Welcome to the "Drama Talk & Drinks" number three. This time our friends Katie Cruz and Brittany Janis went to see a burlesque show at the place that replaced the place that came after the place that was named for Frank Chu. Here's their report: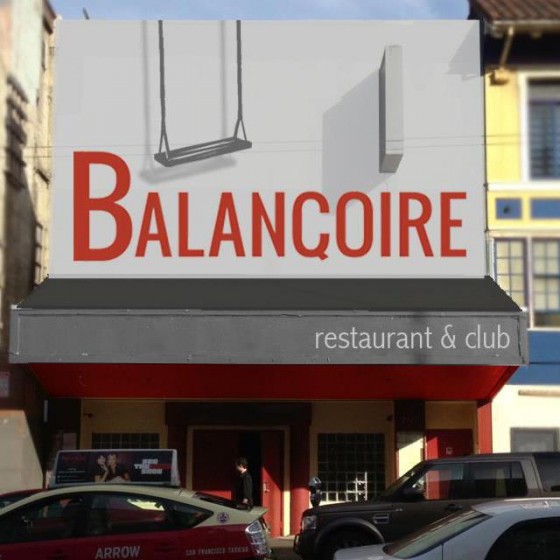 [photo via Balançoire on Facebook]
It was Brittany's birthday last Thursday, and we were looking for a place to get drinks. We heard that a new bar and performance venue was opening in what was most recently The Blue Macaw on Mission, Balançoire: "A full service restaurant, bar and nightclub featuring a French/Creole inspired menu, two dance floors and bars & a performance stage perfect for a variety of events". The 18th was opening night, and their in house Burlesque company, Le Chat Roux, was performing. Since nothing says birthday more than pasties and tassels we had a bunch of friends meet us there for after-dinner drinks and, of course, drama talk.
Brittany: So I want to start off saying, I did have fun. Anytime you get a big group of friends together to drink, dance, and watch ladies take off their clothes it ends up as a good night.
Katie: True, but if I wasn't with our group of friends I would have been like "WTF". The place doesn't quite have a clear identity yet. The inside had a poorly thought through chair and table layout, cheesy strobe lights, and bad music…something was just really off about the vibe. It also would have been great if they had a cocktail waitress.
B: I'm sure part of it was opening night jitters, but in burlesque the taking off of the clothes is the show. Instead, a few of these girls just danced all cray and at the very end were like "oh shit, guess I need to take this dress off" then they struggled with the zipper, pulled it off super quick, and then bounced up and down with their tassels twirling in a panic because their music had already ended.
K: The only performer who I really liked was Eva D'Luscious – she really rocked those large white fans of plumage.
B: I'm just happy I avoided getting birthday spanks, unlike the other birthday party that was there. Although the hostess Kittie Von Tittie was actually really fun, so I would have let her spank me.
K: I think our friend August said it best: "The show wasn't amazing but I fully support courage in all it's forms, especially if it could potentially piss off a republican".
The Verdict: We probably wouldn't go again, but if you have a big group and need a place to go that will provide plenty of space and some sort of entertainment then keep this place in mind. We can't speak to the food but the menu was limited and definitely not cheap ($20-$28 range). Hopefully this place pulls it together, but due to it's current bizarre atmosphere, bad drinks, and mediocre service we wouldn't be surprised if they don't last very long.
The Drama Talk: If you want to see girls struggle to take off their clothes, make sure you sit close to the stage. The space is oddly structured at the moment so the stage view is blocked to most of the bar by a row of tall bar tables.
The Drinks: BAD, but at least for cheap for opening weekend. A gin gimlet is not served in a pint glass on the rocks, enough said.
Balancoire just completed their Grand Opening Weekend, but they have lots of events on the horizon. Check out their Facebook Page for the latest.