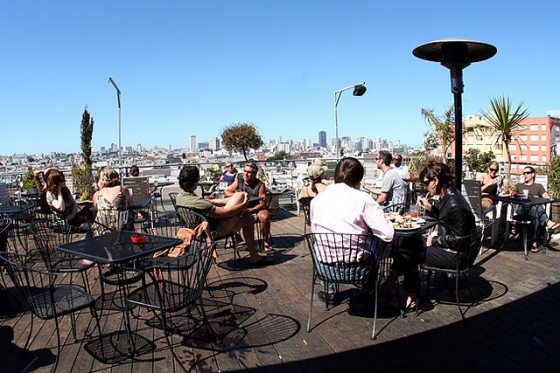 SF Magazine has the scoop on what's happening with the roof space above Lolinda:
No one has been up there since Medjool closed in early 2012, but we've known for a while that Paganini had something special in store. Late last week, he revealed that the roof will be called El Techo de Lolinda, offering a new menu of Latin street food and classic Latin cocktails like mojitos. El Techo will be open for dinner every night of the week, and for brunch on Saturday and Sunday. The whole space has gotten a major overhaul—apparently with some rather fancy and amazing Australian heat lamps. [link]
Street food! Mojitos! Brunch! Aussie lamps! Epic view! Coming in May! Can't wait!
[Photo of the deck back when it was part of Medjool by Kevin Hahn]