The DT&D team has a soft spot for local San Francisco theater. We love the quirky, innovative, and rule-breaking companies that make our theater scene unique. So when we heard that the Hypnodrome, home of the Thrillpeddlers (and their classic Halloween-tastic show Shocktoberfest), was going to close at the end of February we wanted to know what was up. We asked Russell Blackwood, The Thrillpeddlers Company Founder and Director, to give us the scoop.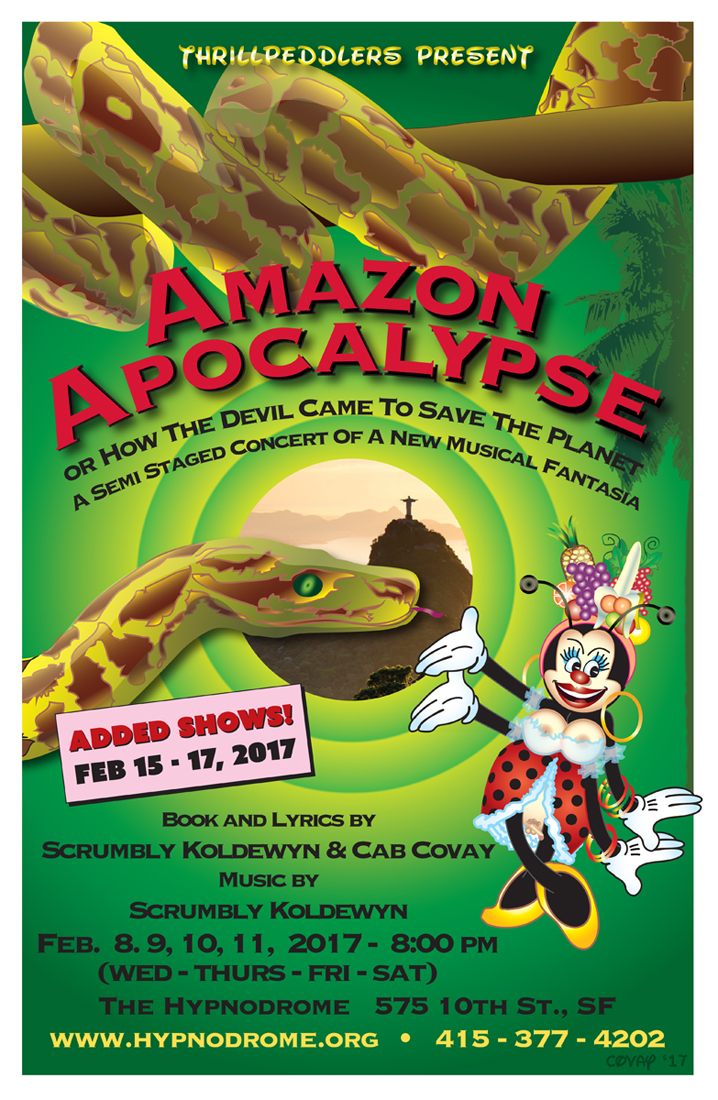 Brittany: We were so sad to hear about you losing the Hypnodrome space. The work you do is so unique and truly San Francisco.
Russell: I arrived in San Francisco in '89 and I remember in my first year here meeting people and saying "you're the kind of person I came to San Francisco to meet". Those experiences got me thinking; How do I become the kind of person that people came to San Francisco to meet? How do I make the kind of art people come to San Francisco to see? I think Thrillpeddlers has been a reflection of that without a doubt.
B: From hearing the story of how you got the Hypnodrome space originally, it sounds like a little bit of Bay Area love and luck went into starting the space. Can you tell us a little more about that?
R: Yeah, the space was offered to my husband within 5 minutes of meeting the gentleman that owned it. In the spring of 2004, my husband Jim Toczyl, was working the first day of his new mail route in Los Gatos. He was wearing a Thrillpeddlers "Sissies Stay Home" T-shirt under his open USPS shirt and struck up a conversation with one of the homeowners on his route about our theatre and the daunting prospect, even then, of renting a theater space in San Francisco. Right on the spot he volunteered; "We have building in San Francisco where you could do a show." As it turned out, the space did make a perfect theatre. While the offer was just for 2 years originally, we've been able to stay for 13. I've gotten 11 years beyond what they offered so I'm happy with that.
B: Any ideas of where Thrillpeddlers will go next?
R: I believe that there are rental houses in town that would suit Thrillpeddlers well, and I believe that there are a few companies where a co-production might be a possibility in the future. We're still assessing our options. As I watch rehearsals for Amazon Apocalypse (the final show slated for the Hypnodrome) I realize how – wow, well I might as well say it – smutty and rarefied our aesthetic might be and how it might not play to every subscription based company in the Bay Area.
B: Tell us a little bit about Amazon Apocalypse?
R: We've just added 3 more shows to the run. It will be a semi staged concert version of the show we had originally planned to produce in full in April. The show is set in Brazil over the period of about 100 years. The premise is that there is a prophecy that if the devil could come to earth, and enter the body of a human being, and put himself in a position to cum 7 times, there will be a thousand years on earth without conflict. So the show takes us to all kinds of locations in Brazil, through all kinds of periods in history, as the devil is entering the body of everything from an Italian opera singer, to an abortion doctor, to a children's television superstar. It's a nod to Brazilian sexuality, but also to the fragility of the rain-forest and the importance of that environment to the health of the earth. So it has both the touchy-feely and really raunchy going on simultaneously. This is a chance for our audience to get behind the work and hopefully see it to fruition at another venue eventually. This is also a great opportunity to workshop the piece.
B: The Hypnodrome is such a cool space, your sets and costumes are awesome. I heard you're doing a rummage sale as you close down the space. Do you have any particular pieces that you are excited to see go to a new home?
R: Yes, there is very little that we are hanging on to, but I will confess to you now that we have made a decision to hold on to the guillotine, which is probably the one high ticket item that people have been inquiring about. Other than that, there is a lot of theatrical decor and fashion and special effects to be picked up. There are some severed heads that are particularly beautiful, and there are certainly some outlandish costumes from Cockette shows. Even ones that were designed and built by actual Cockettes. We have acquired a lot of things, much of it through the generosity and the altruism of others, so passing those things back out into the world at an affordable price is adding to the flow of karma that we have enjoyed for so long.
B: Aside from coming to the shows and to the rummage sale, is there anything else that people can do to help support Thrillpeddlers?
R: There is!. By buying tickets to our final shows, and of course donating to us through our website. Also, just by signing up for our newsletter, so we can keep in touch. In the future risking going to a new venue, that you haven't been before, because we are there will make a big difference. Generally we need our community to keep holding the torch for this multi-generational freak theater company that doesn't exist anywhere else.
The Hypnodrome closes at the end of February, so be sure to check out one of the Thrillpeddlers' final shows on their home stage before they go. Amazon Apocalypse will be presented as a semi-staged concert for 7 nights February 8th-11th and 15th-17th at 8:00pm at the Hypnodrome (tickets $35 GA, $40 front row, shock boxes or Turkish Lounge). Thrillpeddlers are also hosting two Valentine's Day benefit concerts and variety shows entitled Farewell to The Hypnodrome on  Tues. Feb. 14, 2017 – 7:00 pm & 9:00 pm (it appears those concerts are sold out at time of publishing). Finally don't forget to stop by in the final days to fill your requite costume bins at the Hypnodrome Rummage Sale Feb. 25th & 26th, Noon – 5:00 pm. More information and tickets can be found on the Thrillpeddlers website, where you can also donate and sign up to find out what's next for the company.
Save