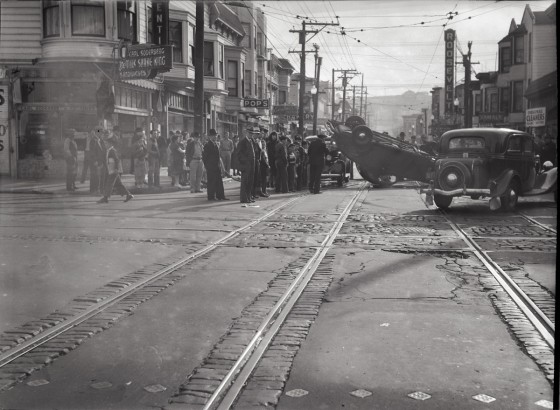 [Editor's note: Congrats to Pop's on its "Best New Bar" win! Well deserved! And sorry I forgot to post this on Monday morning; I was reaaaaaally hungover because I was at Pop's til very late on Sunday night. Also, in case you don't know, Pop's is also a great place to watch basketball right now.]
Everything old is new again at Pops Bar. THANK YOU to SFWeekly readers for voting Pops "Best New Bar". Since revamping the bar this past year it's amazing to be recognized as "new" with such a rich history behind Pops. While Pops officially got its start around 1935, rumor has it that Carl Joseph Saxsenmeier AKA "POPS" ran the Clubhouse during Prohibition as a bootlegger. Pops has been at 2800 24th Street in the mission since 1971. This past year, Michael Spike Krouse (Madrone Art Bar/Pops Bar) and Tom Tierney (Pops Bar) brought new life into Pops with a full music line up each week. You can see the bar's history in the decor at Pops and walk on through to become part of it's boozy traditions!
Check out what's new at Pops Bar this week:
5/12/15 TUESDAY
Happy Hour Entertainment 6-9pm with Julio Hernandez
Retro Tuesday, a mix of music from a range of decades that will keep u grooving!
Tropicana Tuesdays
"Quality Latin BASS"
Every Tuesday at POPS BAR
Music: FREE (Local BayArea DJ`s)
Salsa Lesson: FREE (Instructor La Muerte)
Time: 9pm – 2am
Tropicana is BACK in town! Bringing "Quality Latin BASS", by playing some of the latest – up to date latino music genres.. of course respecting the classics…
With Tropicana Nights, our purpose is to create space for cultural diversity and environmental awareness. Community and music can do a lot of great positive impact in society.
Music by local BayArea DJ`s, such as Stepwise, El Kool Kyle, Mr. Lucky, Mr. E, J Boogie and more…
Salsa I LatinHouse I Latin HipHop I Moombahton I DubCumbia I Merengue I Bachata I Dancehall I LatinReggae I and more…
5/13/15 WEDNESDAY
Happy Hour Entertainment 6-9PM with Rude Awakenings
Forgotten underground classics of the 60s, 70s, and 80s with DJ Cathy 2-Tone and Scooter Stalin
Whatever Wednesdays
9PM-1:30AM
Whatever Wednesday is YOUR PARTY, literally. You got DJ skills? Have you been itching to show ALL your friends? Its your turn to take over the night and mix it up. Send us your request, your best mix and we'll see what we can do to get you your turn.
Email: tom@popssf.com
No Cover
21 UP
5/14/15 THURSDAY
6-9PM Happy Hour Entertainment with Drew Smith
BFF.FM Night
9PM-1:30AM
Rotating DJs from BFF.fm radio! This week: Steve Foxx & NITEPPL
Steve Foxx's dark, moody rock meets NITEPPL's DJ wizardry to create EDM magic that will make you dance on your bar stool. Drink up, because every pint or shot supports BFF.fm community radio.
21 UP
No Cover!
5/15/15 FRIDAY
Cult of Choice
9PM-2AM
Shortshortzz and Lisa P present CULT OF CHOICE. Sway, groove, nod, float, fly, small-dance, big-dance, talk, or stare to rarities and well-knowns—from Chic and Chaka Khan to Todd Terje and Tensnake. Nine pm until no one is watching.
No Cover
21 UP
5/16/15 SATURDAY
Happy Hour Entertainment 6-9PM with Yellow Sun Music
Haight Street All Stars give you funk, blues, folk, rock to make you dance!
Soiree on Saturday with DJ Sweet Lou
9pm-2am
Top 40, 80s, Funk & Soul
Rocking the dance floor with an eclectic mix of dance hits from way back to today!
No Cover
21 UP
POPS BAR
2800 24th Street @ York
San Francisco, CA 94110
www.popssf.com