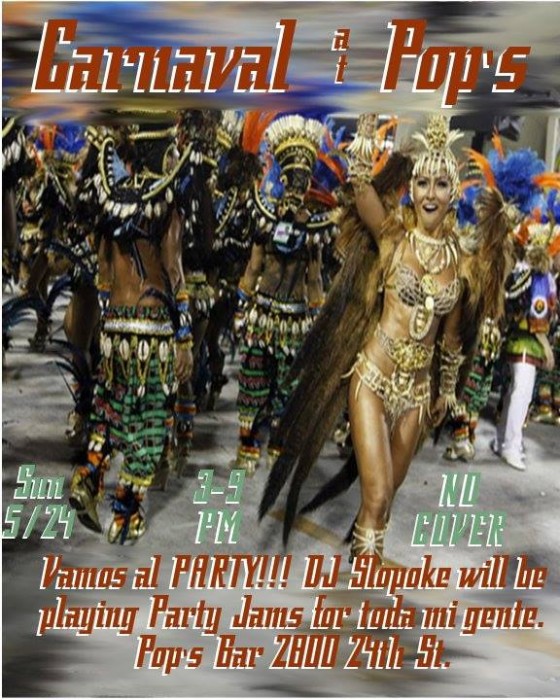 Get ready to celebrate, Mission neighbors, Carnaval is this Sunday! Carnaval San Francisco is the largest multi-cultural celebration of music and culture from Latin American and Caribbean traditions on the West Coast. Pops is ready to join the party with DJ Slopoke & dj Sweater Funk throwing down party jams, samba, brazilian dance and funk from 3-9pm.
See what else is in store this week at POPS:
5/18/15 MONDAY
Motown on Mondays
It's only Monday if you treat it like one.
M.O.M
9PM START, 1:30AM end
Hey!
Check out my
M.O.M.
Mondays at Pops
DJ GORDO CABEZA, TIMOTEO GIGANTE, THE CAPTAIN AND WEEKLY GUESTS
PLAY ORIGINALS, EXCLUSIVE REMIXES
AND CLOSE RELATIVES OF YOUR FAVORITE
MOTOWN SONGS…
5/19/15 TUESDAY
Tropicana Tuesdays
"Quality Latin BASS"
Every Tuesday at POPS BAR
Music: FREE (Local BayArea DJ`s)
Salsa Lesson: FREE (Instructor La Muerte)
Time: 9pm – 2am
Music by local BayArea DJ`s, such as Stepwise, El Kool Kyle, Mr. Lucky, Mr. E, J Boogie and more…
Salsa I LatinHouse I Latin HipHop I Moombahton I DubCumbia I Merengue I Bachata I Dancehall I LatinReggae I and more…
5/20/15 WEDNESDAY
Whatever Wednesdays
9PM-1:30AM
Whatever Wednesday is YOUR PARTY, literally. You got DJ skills? Have you been itching to show ALL your friends? Its your turn to take over the night and mix it up. Send us your request, your best mix and we'll see what we can do to get you your turn.
Email: tom@popssf.com
This Week: DJ Clave
No Cover
21 UP
5/21/15 THURSDAY
Happy Hour Tunes with Mike Rosen 6-9PM
BFF.FM Night
9PM-1:30AM
Rotating DJs from local BFF.fm radio! This week: Cult of Riffs
Classic heavy metal night in the mission! All vinyl, good vibes!
Come support local community radio.
No Cover
5/22/15 FRIDAY
Happy Hour Tunes with Alabaster and Tim 6-9PM
Candy Rain
The Gawds of mediocre rap MP3s played too loudly out of a subpar house party sound system are back! Throwback 90s, early 2000s hip hop and R&B.
9PM-1:30AM
No Cover
5/23/15 SATURDAY
Happy Hour Tunes with Patch & Rita 6-9PM
Who could resist this dynamic duo, with their sonorous adventures into the deserts of early 20th century songwriting? If you've got a hankerin' for some rootsy boot-stompin' tunes about whiskey and cheatin' women, then this is your place. Patch & Rita throw down some tunes like this coast has never seen, and you'll leave stomping your feet, we promise.
Meta Music
9pm-1:30am
with DJ Kool Karlo
NO COVER
5/24/15 SUNDAY
Carnaval at Pops!
Bar opens at 10am
Carnaval Party 3-9pm
DJ Slopoke
Vamos al PARTY! DJ Slopoke will be playing Party Jams para toda mi gente, that includes YOU! Some come on down to Pop's Bar, conveniently located at the corner of 24th and York, and listen to the funky sounds from all over the world!
dj Sweater Funk
Hitting you up with samba, brazilian dance and up beat funk!
NO COVER
POPS BAR
2800 24th Street @ York
San Francisco, CA 94110
www.popssf.com