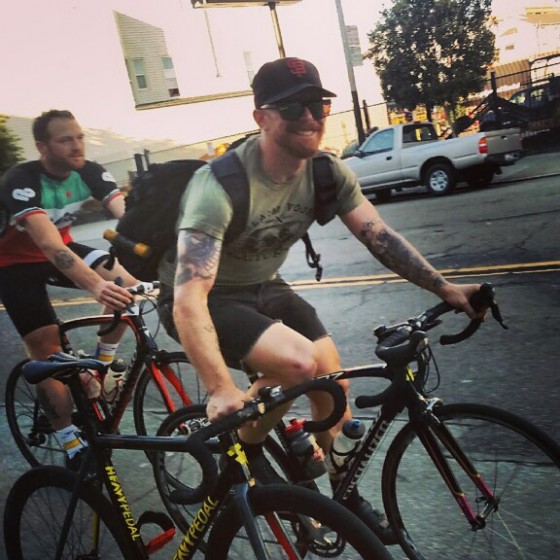 Our pal Zach, who you may remember as the infamous seeker of holiday romance, recently had a run-in with some local bike thieves that ended in the BEST WAY POSSIBLE:
HOW I LOST MY BIKE (THEN GOT IT BACK 15 HOURS LATER)

This whole situation was (most likely) avoidable and entirely my fault. But, y'all wanted a story, so here it is.

HOW I LOST MY BRAND-NEW TRACK BIKE

Do you know those once-every-three-years drunks where you do something incredibly stupid and out of character?

No? Just me? OK, well, this was one of those.

After a long day of riding and racing at Quake City Rumble, I figured I'd get my party on. Been working and training hard, plus organizing the finale race, so I felt I'd earned a good tear.

Long story short, after hopping around to a few spots I left my coworker's birthday party sometime between 2 and 3am. (I sort-of-not-really remember leaving but apparently had promised to walk my bike home)

Now, even when I'm on autopilot, I'm pretty OCD. Phone, keys, wallet – I never lose my necessities. But when I woke up at home around 8 or 9am, and looked at the spot where I keep my bike, it was empty.

Not only did I just get this thing, I'm supposed to race it at the Wolfpack Hustle Finale Crit in Austin next weekend.

Commence freaking out.

THE INTERIM

But I can't freak out, because today is the Mountain Lion, the biggest and baddest alleycat in San Francisco. And I won it last year, which means I'm organizing it this year. This keeps me mentally occupied from dwelling on my missing bike and hating myself too much. I post a picture of the bike describing my situation, and since bike people know all too well the pain of a missing machine, it becomes shared quickly across social media.

HOW I GOT MY BIKE BACK

The Mountain Lion ends and we're hanging out at Potrero Del Sol Park. It's about 5pm and I'm ready to tuck into a burrito when I get a call from my buddy Demi. He says his friend Eli is pretty sure he spotted my bike downtown; I get his number and give him a call.

"Yeah, your bike's on Market near New Montgomery."
"Are you sure it's mine?"
I don't believe this is happening but Eli rattles off a part list and now I'm 100% sure; plus it's one of only 3 Heavy Pedal Axiom frames in the Bay Area.

"There's eyes on my bike near Market and New Montgomery!" I yell.

Sardine, who is in charge of organizing this weekend's events and is also great at shouting, hears me. "Oh shit, for real?" He turns to the crowd of racers and chillers, "ANYBODY WANT TO HELP THIS MAN GET HIS STOLEN BIKE BACK, HE'S GOING DOWNTOWN NOW!"

I start pedaling. Adam Shapiro, Brian Dooley, Carlos Balam, Matt Vanaman and possibly some others (sorry if I forget) are in hot pursuit; especially impressive because I just threw a hard-as-fuck race that these guys all finished (to the tune of almost 50 miles and 5500 feet of climbing).

I have my phone on loud for updates, and sure enough, Eli rings me every couple of minutes. I don't like dipping through traffic while yakking on the phone but it's sort of a necessity in this situation. The target is riding my bike around Civic Center. OK, no, now he's at 5th and Market. So at this point it's Dooley and I tearing down Market street.

I'm scanning the crowds and I spot my bike being walked on the sidewalk. I see Eli getting off his phone (he's been following the thief this whole time) and pointing to the guy with my bike. He's a big, gnarly looking white dude covered in tattoos and I get the feeling he's been to prison at least once.

Well, Mr. Thief hops off the sidewalk and is about to mount up. I immediately flip a u-turn and box him in to the curb from the front and side, with Dooley pulling up right alongside and behind him.

I don't remember exactly what I yelled in the heat of the moment, but it was just something gruff and direct like "Off the bike, man. That's my ride."

The dude very quickly dismounts and hands the bike over to me, spinning some bullshit about buying it off Craigslist this morning. I tell him I don't want to hear it and just like that we're off with the bike in hand, just as Matt and Carlos show up. The whole thing is over in 15 seconds.

I ghost ride my recovered whip back to my house, and invite my posse in for some shots of good bourbon and some beers. I put the bike back in its spot, and we roll back to the park for the weekend's award ceremony.

I've never been so depressed and mad at myself, then so elated in less than 24 hours. Bike people are the best people when it comes to looking out for each other. I got incredibly lucky here, but I am eternally thankful to everyone who was keeping an eye out, and who came to help, and especially Demi for the tip off from Eli, who followed the thief like a total crime dog.
Btw, winter is coming.  Do you have a holiday girlfriend/boyfriend yet???