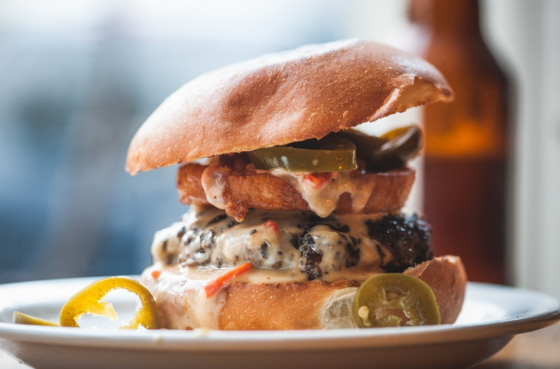 No more trekking up to Divis to get your fix! "WesBurger n' More," it's officially gonna be called, is gonna be a permanent restaurant right here in the neighborhood. Inside Scoop has the inside scoop:
In 2013, the novice chef entered the San Francisco Burger Brawl, where he competed against local professional chefs and restaurants — and won.
Since then, he's been holding weekly WesBurger pop-ups each Wednesday at Mojo Bicycle Café on Divasadero — starring his signature coarsely ground, all-brisket patties that are cooked in a cast iron skillet, which Rowe says makes for a light and tender patty that's nicely charred on the outside and pink on the inside.
[...]
Now he's making the leap from pop-up to brick-and-mortar operation with WesBurger n' More, which will be housed in the former Palacio Latino space on Mission Street, located next door to another pop-up turned permanent: Mission Chinese Food.
Can't wait! "Early 2016″ they're saying. Read on for more WesBurger history and some talk about what'll be on the menu.
(Thanks, Jess!)