This show had me at two words "Sean Hayes" (I'm a big Will and Grace fan). I actually didn't know much about the show going in, so it was fun to learn that the writer David Javerbaum was a head writer for The Daily Show with Jon Stewart and started the twitter account @TheTweetOfGod which has over 2 million followers. Since Brittany couldn't make it to this one, I turned it into a date night. I mean there is nothing more romantic to me than entertainment about how ridiculous religion can be!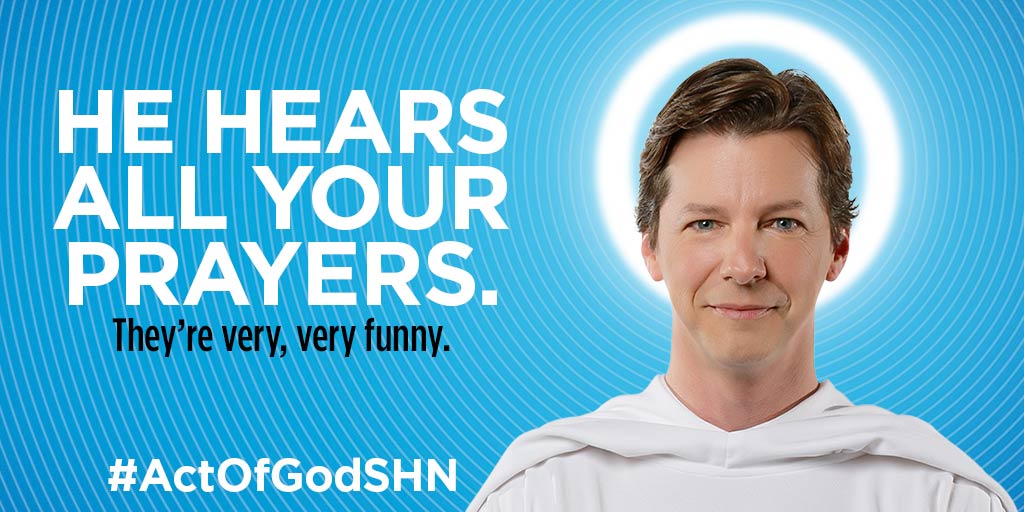 Katie: Okay…the writer has to be an atheist, right?
Garrett: I don't know, but now I'm even more of an atheist. I thought the show was freaking brilliant.  Sean Hayes was perfect. I don't think many other actors could pull this off. His energy was so good, he made it really come to life.
K: Totally! Such a difficult show to do. It's not easy to pull off pretty much a one man show, I mean the two angels roles were so minimal that barely counts. It's great they kept it to 90 minutes, that format really couldn't be a minute longer. The story was good for that length of time. Towards the end it was losing some steam, and I feel like the jokes were about to get old. But it kept my attention and it ended right when it needed to end.
G: I think it lost steam for me at a couple different points but not for very long and it picked up each time. I liked that it had a lot of topical and local humor and it was a combination of really specific current topics but with the broader scope of human existence, god and earth and all that fun stuff. And I liked how the actors played off the audience a little bit, making it feel like an improv show…really fun. And "God" even broke character temporarily to mock a group of people walking in late to the show. Awesome.
K:  With a one man show like this, I think that format of interacting with the audience made us feel like they were having a conversation with God. And by bringing in the audience it made us more present. I feel like if that character didn't bring in the audience I don't think it would have been as compelling. That format made us feel like we were all hanging out with Sean Hayes having a conversation.
G: Definitely. I would have to say this is the best one man show I've ever seen.
The Verdict: This is a really smart show and super entertaining. Must be open minded. The existence of God is always a sticky subject, but this format and acting style was wonderfully silly and successful.
The Drama Talk: The main character (Sean Hayes) doesn't move much from the couch in the middle of the stage but his energy and range as an actor made this story come to life.  As with all SHN shows the technical aspects of this show, though simple, were amazing. The set never changed but the lighting, sound effects, and use of video were on point.
The Drinks: This is a show that we recommend going into a little loose. We had a couple of classy (expensive, yet strong) drinks before the show at the theater. Then afterward we wanted to take that class down a notch (or 10) and went down a few blocks to one of our favorite dive bars the Tempest.
An Act of God runs through April 17th at the Golden Gate Theater. Tickets are available through the SHN website and range from $75-$150. Right now there are tickets on Goldstar from $55-$70. Also, take note that a limited number of $40 Rush tickets will be available for every performance beginning 2 hours prior to curtain at the SHN Golden Gate Theatre Box Office. Tickets are subject to availability. Cash only. 2 per person.