Once on a road trip back from Yosemite, Brittany and friends Chad and Thais got on the subject of musical theater. During the course of that conversation the lesser known 1930s Rodgers and Hart musical, The Boys from Syracuse, came up as a topic. Brittany had never heard of it. Chad had it on his iPod. The inevitable happened and the car filled with show-tunes.
One of the passengers was not a musical theater fan, so after a couple songs a new DJ was appointed, but Brittany was intrigued. She knew the songs and recognized the plot (it's a musical retelling of Shakespeare's Comedy of Errors), but she didn't know the show. When she found out there was a production of The Boys from Syracuse happening at Eureka Theater, she knew she had to take Chad and Thais with her for a night of Drama Talk and Drinks.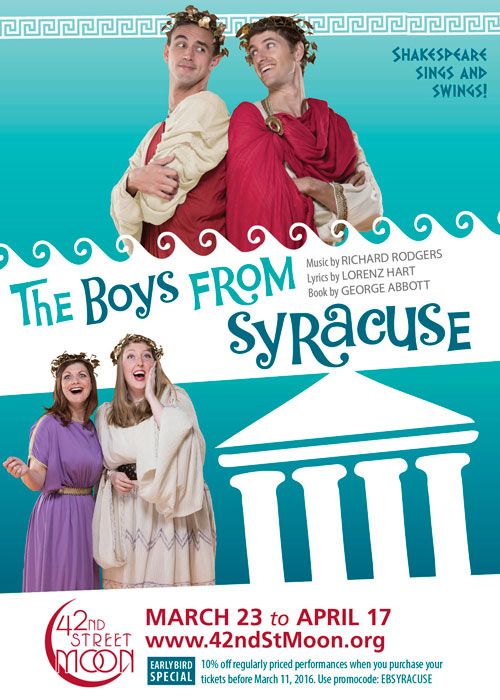 Brittany: Thanks for joining me for Drama Talk and Drinks, what did you think of the show?
Thais: I loved it, I thought it was a blast.
Chad: I thought it was fun. I love music from the 1930s. It's jazzy, brassy and just fun.
T: The performances were fun too.
B: I liked three leading women in particular (Abby Haug, Elise Youssef, and Erin Yvette). The guys…some of them were better than others.
T: The guys who played Antipholus looked like James Franco.
B: That's so true! They looked exactly like a taller James Franco.
C: They didn't really stand out to me. "This Can't Be Love" didn't sound the way I expected it to sound. It should be more romantic. I know it's a farce, but they didn't take the time for a more serious moment.
T:  I loved the two Dromios though! The choreography, the references to Groucho Marx. It was hilarious.
B: The Dromios were great, but I agree with Chad on the love songs. I was hoping for more love. These songs are such Broadway songbook classics, even though the show isn't necessarily that well known, they come with certain expectations. Also I could have done without the dance breaks.
C: You can only see a grapevine so many times. They were having a good time though, which made it enjoyable to watch.
T: The women's voices were lovely too.
C: "Sing for Your Super" was the stand-out song of the show. It made my night.
The Verdict: If you're a fan of Rodgers and Hart and the Great American Songbook, you'll probably enjoy this show. It's got some great voices, fun songs, and great energy. If traditional musical theater makes you want to pull the car over and scream, skip it.
The Drama Talk: 42nd Street Moon, the company behind this show, is committed to restoring, preserving and producing rarely performed musicals. The Boys from Syracuse is one such 'lost classic', typical of 1930s American musical theater, when the genre was in it's hey-day. If you know Rodgers and Hart's music, you've heard some of the songs in this show, you likely just didn't know where they came from.
It's possible part of the reason the show has been lost is the overtly sexist messages throughout the show. The idea of women singing for their supper is more than a little regressive now. But just like those awkward things your grandparents sometimes say, it's a product of its time, so you feel like you can't blame the musical. The three female leads are incredibly talented. The costumes are great. It's generally a fun time.
The Drinks: Opening night started early and ended early, so we needed to get dinner and drinks after the show. Although Kokkari across the street would have technically been more fitting, since the show is set in Greece, we didn't have $100 to drop, so we went to Osha on the Embarcadero. The sweet drinks and the bright colors seemed a fitting end to a technicolor Broadway "forgotten classic".
The Boys from Syracuse runs through April 17th at the Eureka Theater. Shows are Wednesdays & Thursdays at 7pm, Fridays at 8pm, Saturdays at 6pm and Sundays at 3pm. Tickets are available through the 42nd Street Moon website, and range from $22-$75, but Eureka theater is small enough, it really doesn't matter where you sit for the show.