There's something about summer that makes a person nostalgic for childhood. Maybe it's a pining for the good-ol'-days of summer vacation, or the longer hours of sunlight awaken something inside, but summer always feels like a good time to give-in to our more juvenile instincts. Perhaps that's why when we heard that Beauty and the Beast was coming to SHN's Orpheum Theater we decided to go for some Drama Talk and Drinks.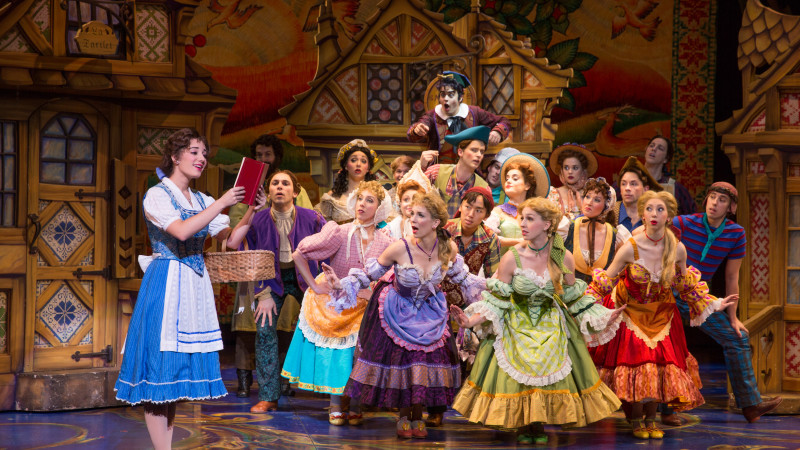 Brittany: It was cute. The kids in the audience were adorable.
Katie: Yes! It's always fun when you have a responsive audience. It was cute to hear the kids get into it.
B: Lumiere was awesome. I loved him.
K: "Be Our Guest" was fucking FUN. It's fun in the movie, but it was more fun on stage. Amazing costumes, choreography, and sets. You really felt transported to a magical world. I was obsessed with Beauty and the Beast when I was kid. I literally watched it every day the year it came out.
B: So did it live up your expectations?
K: Not exactly. The opening song and "Be Our Guest" were great. I didn't care much about the new ones they added to the score though.
B: The new Beast songs were droning.
K: Right? He was like (singing) "I'm the BEEAAST, you are YOOOU!". There were also different character development things I preferred in the movie. The Beast seemed a lot more abusive in the stage version. He wasn't just losing his temper, he was throwing Belle around.
B: Belle is always a little Stockholm Syndrome-y, but I feel like the live-action makes it darker than the cartoon. The ending seemed more aggressive than I remember too. Gaston in the movie was a jerk, but funny. In this he was a little more sinister and violent.
K: The voices were beautiful, the actors were very talented, and the set was amazing, but I still think I prefer the movie version. There were certain things that were awesome to see on stage. They used the puppets really well, and the transformation of the Beast was so cool to see live. I just wish they had either gone really different from the film, or stayed true to it. This felt in-between.
B: At the same time, the kids in the audience seemed to love it. Which, really, is the point. I think it's a show for kids. It just also happens to appeal to adults since it's a Disney classic.
The Verdict: Have family visiting for the holiday weekend or summer vacation? This is a great family friendly activity. Love Disney and want to see your favorite characters live on stage? Go, but it may not be exactly what you expect. Hate Disney and the patriarchal sugar coated fairy-tales it peddles?  This show is probably not your cup of tea.
The Drama Talk: Like so many touring shows, there are lots of great things to say about this production. The set, costumes, and spectacle truly transport you to a fairy-tale world. The leads are all very talented. Lumiere, played by Ryan N. Phillips, could not be more fun to watch. Yet despite a lot of good, it didn't quite live up to our childhood memories of the original Disney animated film.
The Drinks: If you too want to find yourself in an enchanted castle, and return to a different kind of childhood, we recommend walking a few blocks up to Geary to the classic dive bar Edinburgh Castle Pub after the show. You're best off if you stick with beer, but they do have a full bar.
Beauty and the Beast runs through July 10th. There are $40 "virtual rush" tickets available for every show, so go ahead and try your luck here. There are also currently discount tickets available on Goldstar for as little as $45. Otherwise, you can always purchase tickets through the SHN website.