We're suckers for the Stern Grove Festival (which, PSA starts next weekend). Epic picnics, redwoods, and culture all in one place. A trip to Stern Grove also means layers though. No matter how warm it may be when you start, you'll end up shivering and cocooned in your dusty picnic blanket by the end. So when Brittany learned that a similar phenomenon, Mountain Play, existed just across the Bay on Mt. Tam, high out of Karl's reach, she was intrigued. This summer's production is the classic, West Side Story, so she asked her boyfriend (and frequent DT&D contributor Sam) on a Sunday date. They packed a picnic, rented a car, and drove up the mountain for a day of Drama Talk & Drinks.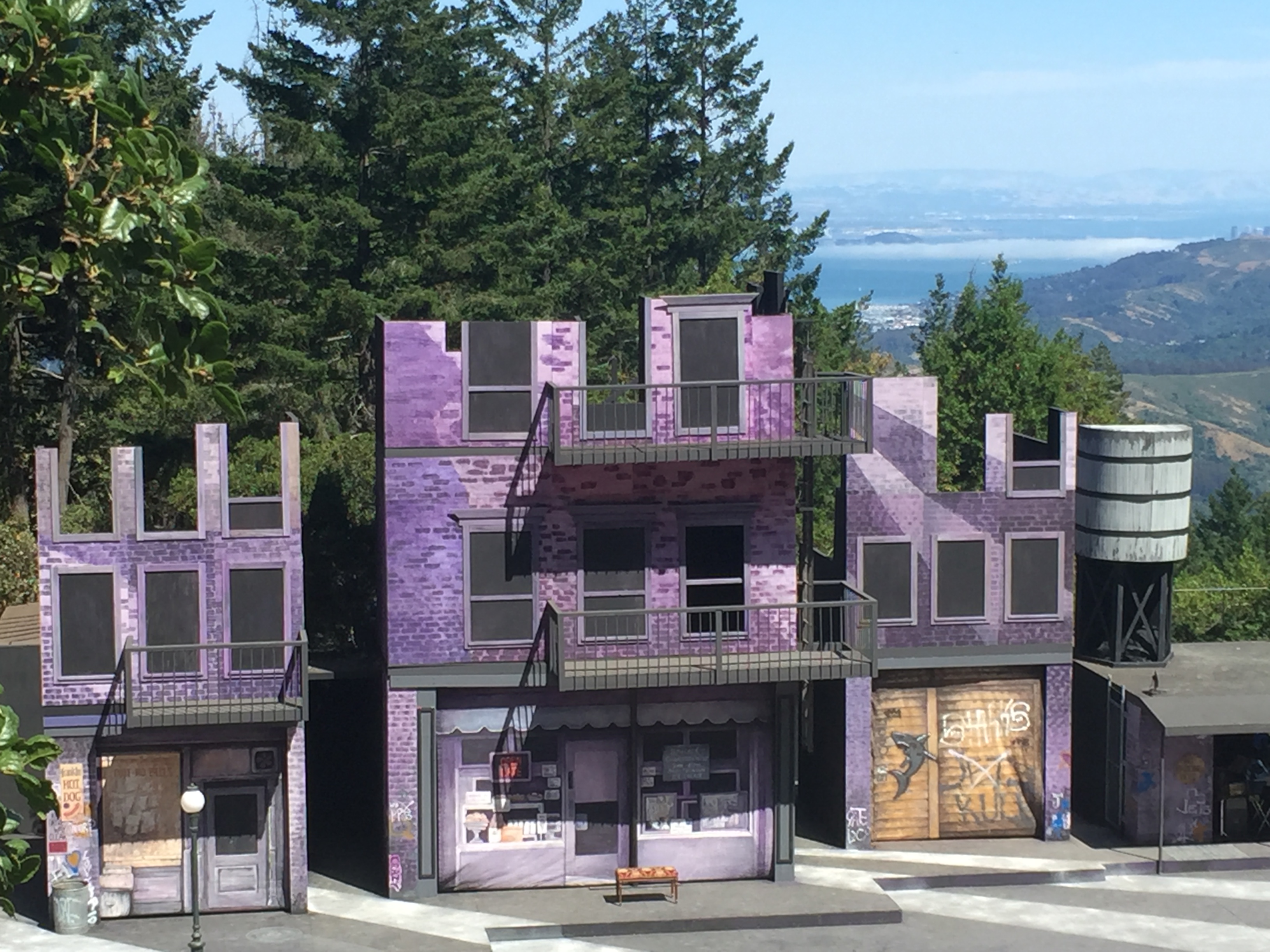 Sam: I think this is the widest set I've ever seen. This theater is insane, I can't believe that view! Did you get a good picture of the set?
Brittany: Yeah, I took it before the fog took over when you could still see the City.
S: Oooo, it looks cold down there. We should stay up here, above the clouds, there's a place for us.
B: So did you like the show?
S: Yeah, I thought it was great. Great set, good costumes, this space is amazing.
B: They had great voices too. The dancing was the only thing fell a bit short for me. West Side Story is part ballet. Nothing says gang violence like grand jetés, and only some of the dancers were up to the task, although the fight choreography was on-point
S: They're baking under the hot sun, at 2000 feet. I was impressed.
B: True, the audience was dropping like flies. I saw at least 3 people near us need to get medical help during the first act because of the heat.
S: I felt bad for the orchestra, they were outstanding, but they were stuffed into that little black box on stage. It must have been boiling.
B: I think it's hard when seeing a play in a venue like this to fully appreciate the show. There's so many distractions, the view, the wine, the picnic, kids walking around, audience members fainting. I think they did a good production of West Side Story, but with so much else going on you lose some of the emotional impact. You're never fully immersed into the world of the play.
S: You don't get the same punch, that's for sure. It's nice that outdoor theater doesn't have to be as buttoned up though. The whole experience of spending a day on top of Mt. Tam, listening to the pre-show music, having a picnic, hiking up from the car to get here and then there's a great show on top of it all. It's a great way to spend a Sunday.
The Verdict: There's a reason people are more likely to call this production by its company name, Mountain Play, than the name of the show they're seeing. West Side Story was good, but it's the whole experience that makes this day-trip worthwhile.
The Drama Talk: The actors had fantastic voices, the set and costumes were great, and although the dancers fell a bit short of Broadway-quality, it was still a well-choreographed show. West Side Story is a classic for a reason, and this is a solid production. Mountain Play is all about the experience. It's a whole day affair. Music starts at 12:30 so if you get your act together you can arrive around noon, eat your picnic, kids can get their face painted, and hang out before the show starts. There's even a picnic judging competition, which is just too intimidating, but it gives you an idea of how serious there people are about enjoying Sunday. Get there early for parking on-mountain and a place to sit in the shade.
The Drinks: Lots of people bring wine with their picnics, and there's also wine and beer for sale on the Mountain. Just be careful to hydrate, it is hot and you're at altitude. After the show we reluctantly rolled down the mountain back into the fog and Mill Valley, picking up a stranded fellow audience member on the way whose car was parked at the bottom. She told us that she grew up in Mill Valley and hadn't been back to a Mountain Play since she was a kid. For her, this defined Marin summer. Jonesing for Puerto Rican food, we went to the closest thing we could find nearby, Joe's Taco Lounge and Salsaria. We got some margaritas and toasted to a successful day of Drama Talk & Drinks.
West Side Story runs through June 19th, shows are on Sunday's at 2:00pm, but pre-show music starts at 12:30 so get there early to picnic and enjoy the view. General admission tickets are $40 and available on the Mountain Play website.