DT&D has reviewed a We Players show before. Last summer we loved their site-specific Ondine at Sutro Baths. So when we heard about their season kick-off party, The Capulet Ball, we were intrigued. Katie was busy, so Brittany and Sam donned their best Shakespearean-Masked-Ball garb and headed out for a night of Drama Talk and Drinks.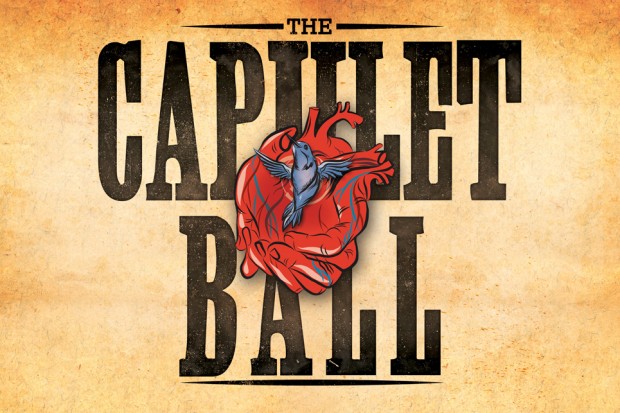 Brittany: So did you have fun?
Sam: Yeah, I had a blast.
B: I think that the show (the full production of Romeo and Juliet) is going to be good. The girl who was Juliet was great.
S: She had great energy. She really got the physicality of a teenager. She had no inhibitions, and couldn't filter when Romeo was nearby. The balcony scene felt really genuine and fresh, and I don't normally like Shakespeare since it so often feels stale.
B: Even though this was just a sneak-preview of the show that's opening this summer, you really got a good sense of the characters. Even if you never saw the actors saying their lines, by just interacting with them- in dancing or making small talk- you could tell who they were.
S: The characters were really intimate with the audience. It reminded me of Sleep No More, where you don a mask and become part of the scene. I wish that it went longer.
B: Yeah, it was really short. It was supposed to go until 10 but it only went until maybe 8:45 before the action ended and people started to leave. Even the band wrapped up early.  I guess it's good to leave the audience wanting more, but I thought it would be a longer production.
S: For the brief production it was, the costumes were phenomenal. The animal masks were haunting, they added something whimsical to the production.
B: It's also fun that so many audience members got dressed up. There were some elaborate costumes and impressive masks. The show only worked because the audience bought-in. If you had come into that space with the audience wearing normal street clothes it would have been a very different experience. People dressed up, danced and interacted. That's what made it fun, getting to be in character yourself.
S: I wonder if we could have convinced the band to keep playing, it ended so early and I wanted it to continue. There was still a boy to kill!
B: And a girl. And a few other people too.
S: Not enough death for an evening out.
The Verdict: The Capulet Ball is a fun way to support an innovative Bay-Area theater company. It's not even the whole first act of Romeo and Juliet, so if you want to see the full play, hold out until R&J opens this summer. But if you want to have a very cool interactive theater experience, that lets you dress up and be part of the show, go to this. It's pricey, but it supports a good cause, and drinks and light food are included.
The Drama Talk: We Players is great at site-specific work, and The Capulet Ball is no exception. The space for this production was perfect, and looking at the future venues, there are some neat places on the list. Production values are super high. Once you walk through the door and put on your mask you're transported to the Capulet's home and the party where Romeo and Juliet's star-crossed paths first cross. It helps if you get dressed up, drink some mead, and go in with no inhibitions.
The Drinks: The party has an open bar, so we drank there. Wine, beer and mead only, but the pours are generous and flow all night.
There are only three more performances of The Capulet Ball, all in different parts of the Bay Area. They run through June 18th, and range from $75 for the show in Oakland, to $150 to the show in Calistoga (which includes dinner). Tickets are available through the We Players website: http://www.weplayers.org