We try not to miss our chance to see a show at PianoFight, after all what's better than food, drinks and theater all in one place? We are particularly glad we didn't miss The Ice Cream Sandwich Incident, a new play by Barry Eitel (head writer of Boxcar Theater's 2014 production of Speakeasy) that looks at what happens when you put together a crew of four oddballs on experimental space mission….to nowhere. If you haven't experienced a Faultline Theater show at the PianoFight venue, this is the show to do it.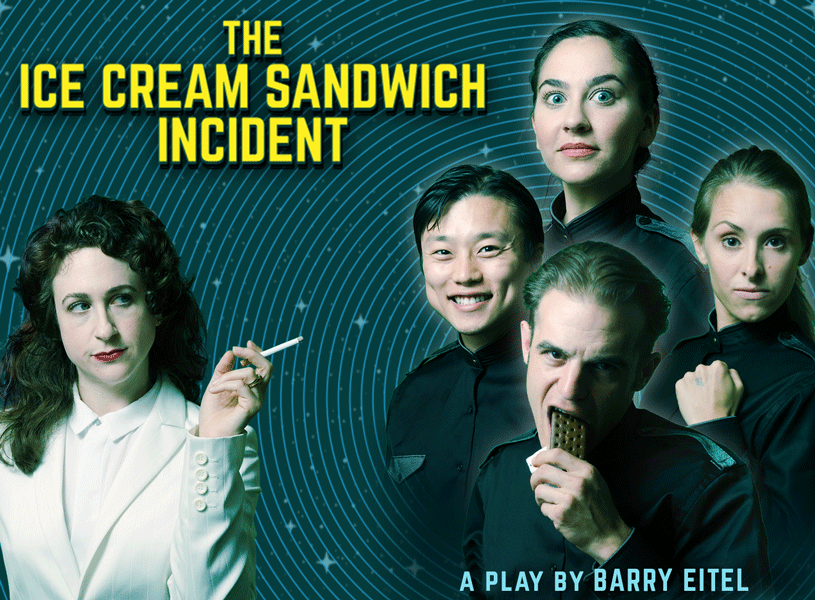 Brittany: That was fun.
Katie: It was really fun. I love that the play was a walking, talking social experiment. Super entertaining and well done. My only criticism is the scene transitions could have been a little tighter.
B: Yeah, they definitely had some trouble with transitions. I think a lot of the problem was the lighting design. There were a few times I noticed the lights, and you really aren't supposed to notice the lights. People didn't even know it was intermission, and people only knew it was the end of the play when people started bowing.
K: Exactly, the ending didn't feel like an ending. The lighting really threw me off.
B: I thought it was a creative concept though. Exploring what happens when four people share a small "space station" is surprisingly relatable, at least if you have had roommates. Somebody eating all the ice-cream sandwiches can totally create a month long drama. It's so ridiculous, but so feasible at the same time. I would be pissed if I was stuck on a "space station" and I was looking forward to dessert all week and someone ate my goddamn ice-cream sandwich.
K: Me too! I thought there were a lot of clever moments in this piece. Those blue rope lights tho… so college dorm room.
B: I agree, but if the worst thing is the lighting design that's a pretty good show.
K: True, and if you are wanting more after this show you can hit up the 9:30 show and after that you can hit up the 11:59 improv show and just theater your face off. Or just sit in the bar, eat, drink and listen to the live music. Not a bad night.
The Verdict: Refreshing, fun and clever. If you like seeing shows that have ridiculous relationship drama, but also hilariously reflect real-life, this is the night out at the theater for you.
The Drama Talk: Faultline Theater reliably pulls together talented people to put on interesting plays; The Ice-cream Sandwich Incident is no exception. Good talent, good set, good costumes, all around well produced (except we didn't like the lighting design). The playwright's ideas about how-to mediate conflicts in space are funny and fantastic. With such activities as a "space ballet" dance-off, a mock talk-show, and a reality TV style "chamber of emotions", the play explores realistic roommate drama in hilarious ways.
The Drinks: We love PianoFight, because it's a one stop shop for food and drinks and entertainment. If you haven't made it to this venue yet you really should! Great food (OMG their fries), cocktails (the Goldrush is delicious and dangerous), two  theaters and a cabaret stage with live music. Sometimes it's nice to only have to go to one place, and this night we did just that.
The Ice Cream Sandwich Incident runs through August 27th, with shows at 7:30 Thursday – Saturday, and 6pm on Sundays. Tickets range from $25 for VIP front row tickets, to $15 for general admission, or $10 (The Double Date) for groups of 4+, and are available through the Faultline Theater website.
Save