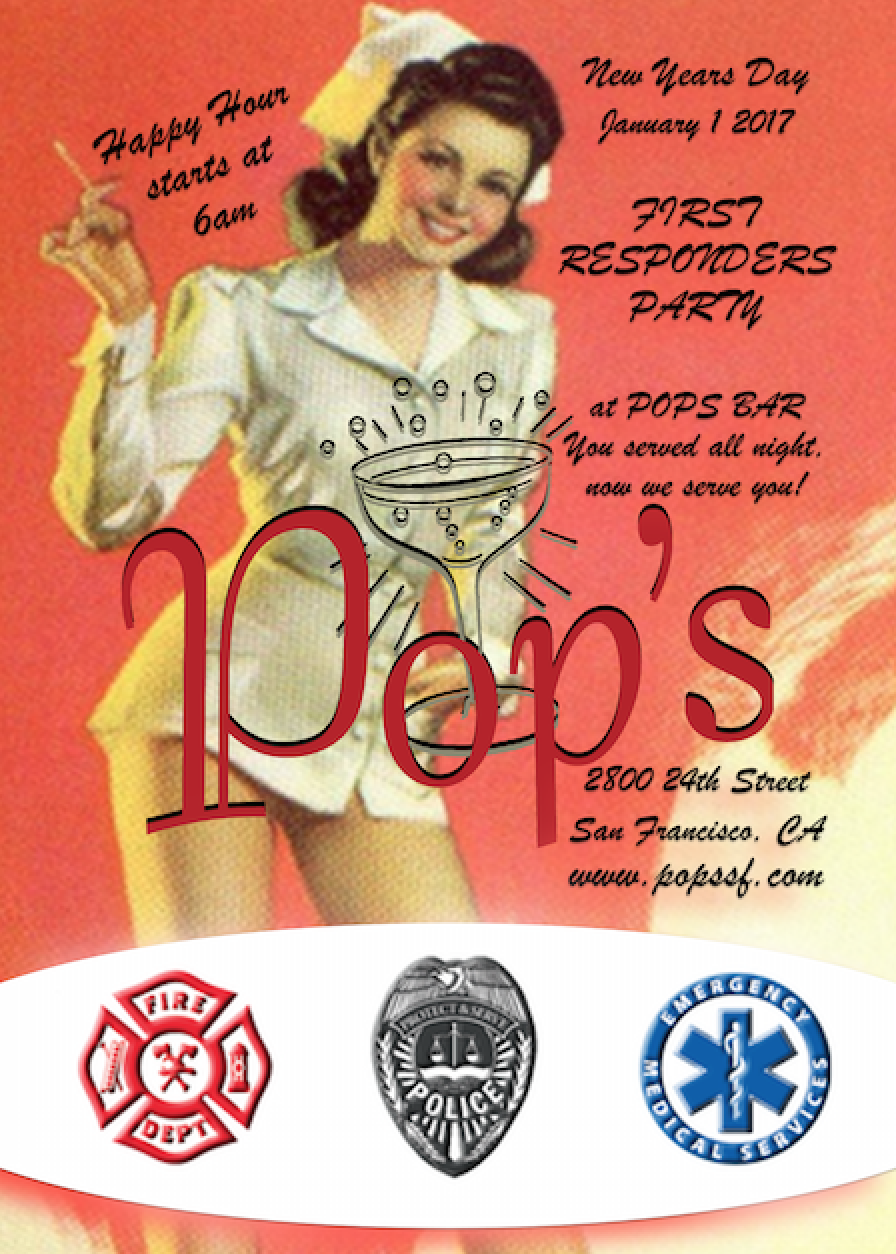 Let's face it NYE is often amateur hour. Avoid the drama and spend New Years in the neighborhood with your friends at Pops Bar. We'll have Resident DJ Sector ringing in 2017. The best part? This NYE party is free all night! Then as begin 2017, we open bright and early at 6am for all you first responders coming off your shift. You served all night, now we serve you!
This week's entertainment line up at Pops Bar:
12/28/16 WEDNESDAY
Benezra Tergis
Happy Hour Entertainment 6-9PM with Benezra Tergis and friends. Live latin sounds with Benezra playing keyboards with percussion and vocal guests!
12/29/16 THURSDAY
RHYTHM & BOOZE
9:30PM-1:30AM
Soul for the Blues, and Blues for the Soul.
ft. DJ's
Booker D
Slopoke
A night of powerful Soul Sides and Boozey Blues 45′s!
No Cover
12/30/16 FRIDAY
Tell River
Happy Hour Entertainment 6-9pm with Tell River
The No Theme Super Dance Jam
with DJ Sonny Phono spinning your favorite dance jams
9pm-2am
No Cover
12/31/16 SATURDAY
Neighborhood New Years
with DJ Sektor
10pm-2am
Hip Hop, Classics 90s, 2000s, R&B
NO COVER!!!
21 UP
1/1/17 SUNDAY
First Responders Party
You served all night, now we serve you.
Happy Hour starts at 6am!
SPILL THE WINE
CUMBIA * CHICANO ROCK * LATIN SOUL * BOOGALOO
DJs Vinnie Esparza, Guillermo & Slopoke
5PM-10PM
No Cover
21 UP
POPS BAR
2800 24th Street @ York
San Francisco, CA 94110
www.popssf.com