For those of you who missed the The Speakeasy the first time around, it's an immersive play set in prohibition-era San Francisco. It had a sell out run in the TL in 2014. After losing their space, they decided to find a more permanent one to keep the show running. They closed for about a year, did an awesome crowd-funded micro investment campaign, got a space on the North Beach/Chinatown border, and set about to converting it into a real, three times bigger than the original, Speakeasy.  When The Speakeasy officially re-opened we knew we had to see it again, so Brittany donned her flapper dress, and brought Sam with her for a fresh perspective. After the show we stumbled over to Vesuvio to dissect what we had just experienced. We pushed our way into a table with a lovely couple who were also dressed as a flapper and a gangster. As we had guessed, they had also just seen the show, so we asked them to join us for drama talk and drinks.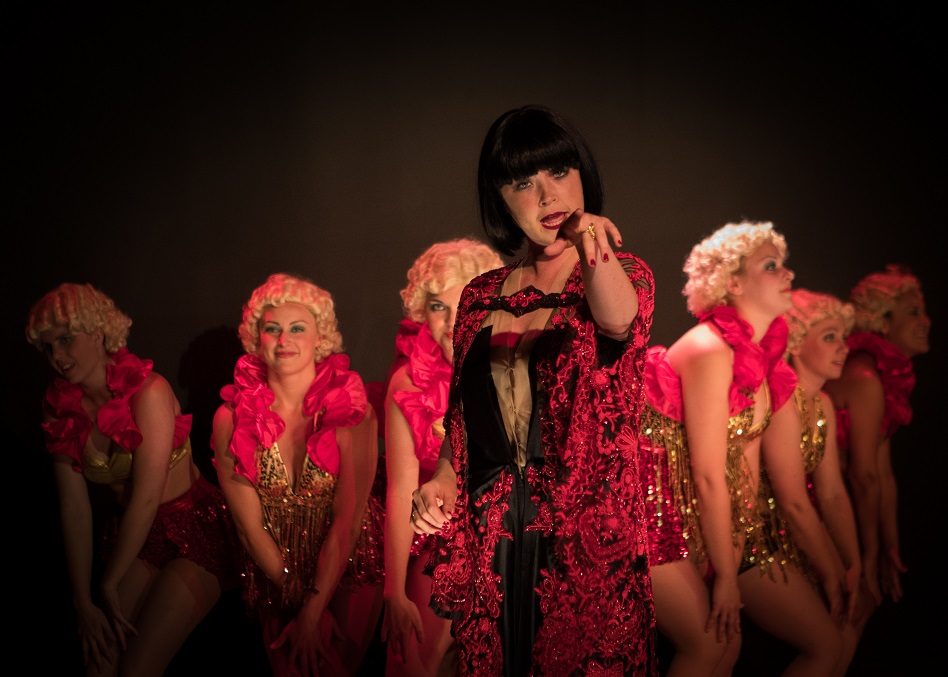 Gangster: It was striking how much effort went into transporting the audience. The production value, the set design, the sound design, the different story lines, how immersive it was, I loved it. It's nice to be able to put away our modern life, put the cell phones away for the night, and just experience something amazing.
Flapper: I agree, I enjoyed having a night out with no phones. The show was so intricate, there were so many things going on, but it never felt forced or fake. We were just comparing our experiences and it was fun because we each got something different out of it. There are so many story-lines, I could see how you could go back over and over again and still see something new. If you spend the night in the casino, you'll have a totally different night than someone who stays in the cabaret, or watches the dressing rooms. It's also fun to see a theater performance, with performances in it, so you see the characters on the stage in the cabaret, and then you get to see their back stories and feel like you're behind the scenes.
Sam: It was also fun to be integrated into the scene in a way that you aren't normally in theater. You're an audience member in the cabaret, which is a play within a play, so you almost have to become a character yourself. Everyone dresses the part too, like you guys look amazing, you can't tell the audience from the actors.
Brittany: I think what's great about this show, compared to other immersive theater plays I've seen, is you really have a hard time parsing fiction from reality. In shows like Sleep No More you know the plot. When you see a character you know who they are and their role in the story. Here you don't know the story-lines, and you have no idea who is in the play and who is an audience member, which makes the discovery process that much more exciting.
F: Exactly, this is the first time in a long time I've left a show and really wanted to talk about. Like, which things did you see, what pieces of the plot do you have, because you only get bits and pieces of the show. We didn't know how much we were supposed to stick to a structured thing, so we didn't really move around the space until the second half of the show when we realized there were other rooms. I am sure there is a ton we missed.
B: I think no matter what you're going to miss something, you just have to appreciate where you are in the moment.
S: So true, I think my favorite part was a scene we watched while we were spying on the office where two actors were performing, and just three of us were watching. No one else got to see that bit of plot, and that made the experience that much more special.
The Verdict: Absolutely a must see. We didn't think it was possible to like this show more than the first time we reviewed it, but this new space is amazing, the show is tighter and overall the experience is more impressive. Yes, it's expensive, and you have to budget for some of their delicious cocktails too, but buy it as a gift to yourself. It's totally worth it.
The Drama Talk: The Speakeasy space is absolutely amazing. The cabaret is beautiful, the bar feels smoky even though there's no smoke, and you totally feel like a creeper snooping into the ultra realistic dressing rooms and office. It doesn't look like a set, it looks like a real speakeasy with classic cocktails and all. Since the audience is dressed up as much as the actors you sometimes forget that you're in a play. This is the real-life version of virtual reality – we felt transported to the 1920s. There are so many different pieces to this production that it's impossible to see it all. Yes it does still give you a certain amount of FOMO, but honestly it's just too fun to care. While you don't leave knowing the full story of any of the characters, you do leave with snapshots into their lives which are powerful. You could easily see this show 4 or 5 times and still not really know what happened, but that is part of the beauty and what should make this permanent run possible.
The Drinks: The Speakeasy is a speakeasy.  So much so you can go to the bar known as Club 1923 on certain nights after the show just for drinks. They have great cocktails, which are way too easy to order. You give them your credit card ahead of time so after your third drink you forget that you're still paying them when you show your wooden nickle. The booze flows freely, and some audience members were more than tipsy by the end, but if you're looking for a place for more drinks after the show Vesuvio is stumbling distance from the door.
Tickets for The Speakeasy can be purchased through The Speakeasy SF website and are currently available through March. Although some nights are sold-out there are lots of others that still have space, so if you need a last minute gift you can still book now. Thursday and Sunday shows are $85, Friday and Saturday shows are $110. You can also become a member of Club 1923 if you want to keep going back, and get discounted tickets for you and your friends. Club 1923 is also open on select nights after the show, so if you want to get a sneak peek into the space without committing to the show, you can pay a $10 cover for a night of drinking in a pretty dope bar.