I've been seriously jonesing for a pulled pork BBQ sandwich for the past few weeks, and today what do I see (and smell) at Alemany Farmer's Market but the Good Foods Bay Area Urban BBQ tent.
Their pulled pork sandwich was very much awesome: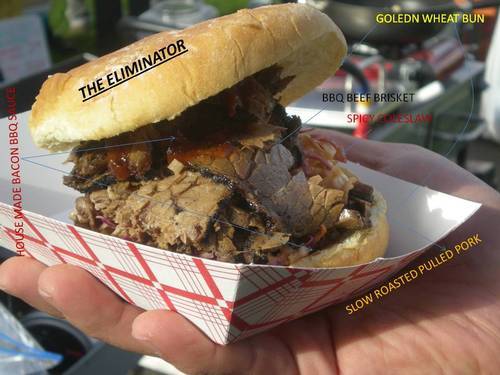 And the salmon burger ALSO was worthy. (I have been bitterly disappointed by salmon burgers at other lesser establishments in the past).
While I didn't get one, the "New BLT" was being seemingly ordered by everyone other person, so I'd certainly gamble on it.
So it's no wonder they won the SF Weekly "Best Roaming BBQ" competition.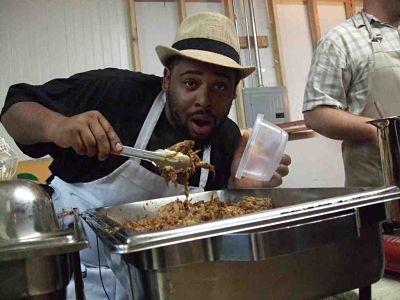 "Ball, who's cooked at Delfina, Spork, Contigo, and Google, told SFoodie that this pillowy and tender offering is smoked for eight hours and cooked for an additional six, equaling 14 hours of love you can taste."
More SF Weekly Dontaye Ball BBQ coverage here.
But there's even better news for lovers of billowy and tender offerings — Dontaye and company will be at the Bayview Sunday Streets on 3rd St tomorrow. Just look for these SF Weekly and SF Food Wars award winners (silver pig and golden statuette may or may not be present):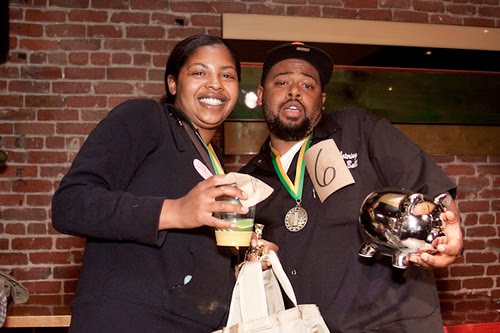 And like any roaming food dispensary, he's also on Twitter.