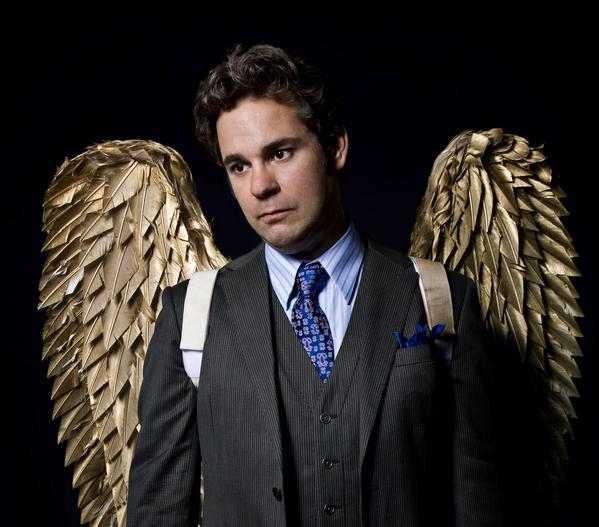 I'm not going to sit here and tell you that Paul F. Tompkins is the funniest comedian in the world right now. You already know that. Since VH1′s cancellation of the (sadly misunderstood) Best Week Ever with Paul F. Tompkins, P.F.T. is back on the West Coast and totally killing it. His new album rules, his mastery of Twitter is beyond compare, his use of Facebook to source shows is unprecedented.
This Friday, he's performing his variety show, the aptly titled Paul F. Tompkins show, at Eureka Theater. Tickets and details here. Joining him will be Dave Foley (Kids in the Hall), Illeana Douglas (Cape Fear, Ghost World), and singer-songwriter Grant-Lee Phillips. We talk about performing in SF, internet schemes, future plans, and the stress of organizing a variety show.
Oh, and you should join the SF Tompkins 300 group and get him back here on his own accord.
…
Mission Mission: I've seen you perform here in San Francisco with both good and horrible crowds. How is San Francisco as an audience?
Paul F. Tompkins: *Laughs* When did you see a horrible crowd?
MM: You performed at Cobb's and there were at least 2 or 3 people yelling at you through the whole show…
PFT: Oh, yeah. In general I find San Francisco to be good. When I would play the Punchline, it would be me spread out over four nights and there would be probably 10 people who come to see me specifically and they were enjoying it. The rest of the people got free tickets, the room had been papered, so they were just not into it. I saw some of the rudest crowds ever at the Punchline, people with their backs to the stage just talking, as if they were at a night club. You have to work so hard to win them over because they don't value the experience.
Doing Sketchfest where it's a bunch of comedy fans, it's great. People show up really pumped up for the show. They know they're going to see something that they're going to enjoy. They're in a much better frame of mind.
MM: So because of that, lately you've been doing a lot of interesting things around how you bring in audiences. The kinds of places you play, the Tompkins 300 Facebook campaign… are you getting the results you want?
PFT: Well, so far. It's only been the one show in Toronto, the one that started the Tompkins 300… thing… I don't want to call it a movement, I feel like that's very grand. Let's call it a notion, the Tompkins 300 Notion.
That started from me being in Atlanta, trying to get people out to a show. This comedian Bob Kerr in Toronto asked, "Why don't you come to Toronto?" I said, "Get 300 people together that say they'll see me" because that was the size of the room I was trying to fill in Atlanta. And he did it, this Facebook group started, he got 300 people, I booked a show, and it was great!
I'm trying to make that the model, but I've yet to do the second show. I'm trying to nail down venues in five different cities right now. It's proving to take longer than I had hoped. I do feel like this is something that can work and will work. Once I have the logistics down, I think it is going to be a successful thing. It makes a huge difference when everybody is there for the same reason.
MM: You've also announced that you're starting a podcast.
PFT: I'm very excited about it, it's something I've been thinking about for a long time and it's a form that I really enjoy. I listen to a lot of podcasts. I like that it can be whatever you want it to be and that there are so many things that you can do with it. It's going to be a mixture of produced stuff, excerpts from my Largo show, conversations with people…
MM: Your experiences hosting Best Week Ever, and your show at Largo, have those informed what you'd like to accomplish with your podcast?
PFT: You know, I think what's informed me the most is listening to other podcasts. I like a lot of different kinds. I really enjoy something like Comedy and Everything Else, hosted by Jimmy Dore and Stefané Zamorano. I love what Scott Aukerman is doing with Comedy Death Ray. It's one of my absolute favorites. I listen to it every week, I think he's a good host and the show he puts together is fantastic.
MM: Your John C. Reilly impression on Comedy Death Ray is a particular favorite of mine.
PFT: *Laughs* I think you're being generous by calling it an "impression". There's another podcast called Superego which is a monthly podcast that these guys Matt Gourley, Jeremy Carter, Mark McConville and Jeff Crocker put together that's stream-of-consciousness sketch stuff that's very produced. I sat in on an episode that's going to come out next month. They have sketch ideas they want to do, they riff, they edit out all the dead spaces and layer in sound effects and music so it's really an impressive thing, I really love it. That was an influence, realizing it doesn't have to be a couple people sitting around talking.
Then, of course, Tom Scharpling's Best Show on WFMU.
MM: Do you want to comment on the rumors that you're collaborating with Tom Scharpling on something new?
PFT: Yeah we've been talking about something for a while. It's very difficult because we're on opposite sides of the country, we have our own things that we're trying to do. Now that we're both free, as it were, we didn't want to miss the opportunity to collaborate on something. So we're in the very early stages of putting together an idea for a TV show.
MM: For your upcoming Sketchfest show, is there a theme to the guests?
PFT: No, it's just people I know that have done my show before. Dave Foley and Illeana Douglas are doing sketches with me, and Grant-Lee Philips is an old friend, a musician that has done my show in Los Angeles many, many times. It's nice to play with people that I have a relationship with. It just makes things a lot easier.
Doing a show like this is stressful enough at home; doing it on the road it becomes a whole other thing because there's so much logistic stuff that has to be worked out. I learned a lot from doing it at Sketchfest in 2006 and the guys that run Sketchfest have been really helpful, Janet Varney and her whole team. I feel a lot less stressed out about it this time around. Now I'm actually looking forward to it! The first time I have to admit I was sort of dreading it. It was just so unknown doing it someplace else.
The biggest bitch of it was all the music stuff. All of a sudden I was putting on a rock concert, so much of it was about getting the musicians and their equipment there. Comedy is so easy because you just show up and there's a microphone and that's all you have to worry about. I feel like I made the right decision in not taking guitar lessons.
MM: But despite all the work it takes to get music on your show, it's all worth it?
PFT: What it comes down to is: I hate everything that leads up to the show. Once the show is ready to start then it's great. Once it starts, everything is just fine. It's all the stuff that leads up to it that's not fun. I hate being a producer, I love being a performer. It's worth it, all the producing nightmares — *Laughs* I shouldn't say nightmares. Headaches, maybe. Scale that back a little bit. The headaches are worth the performing dream, how do you like that?
MM: Anything else you want to mention about your show?
PFT: It's going to be awesome.
I will say this! We have an early show and a late show and we're going to be doing completely different material at each show. So if anybody felt like coming to both they would not be disappointed.
Tickets for the Paul F. Tompkins show can be purchased here. Two shows, one at 8pm and another at 10:30pm, $25, Eureka Theater. And totally sign up for the SF Tompkins 300 group.