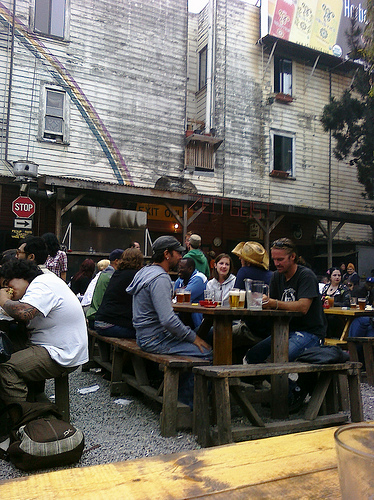 Details are constantly emerging regarding new legislation the city is considering that would expand the current ban on indoor smoking to include anywhere within 15 feet of entrances and exits to ALL buildings in San Francisco.  This verdict would ostensibly include enclosed smoking patios, such as that within everyone's favorite place to get yelled at by barbacks (although a final decision on this specific point has been stalled and will be revisited in 2 weeks). 
Assuming that this zany legislation somehow passes despite its detrimental impact on businesses already weakened by the recession, what will this mean for Zeitgeist?  Do people just go there because they can smoke in the backyard?  Or is it all about the mass appeal of a sunny outdoor space for drinkers (especially since lately this seems to be an endangered species)? 
Furthermore, what will this mean for non-tobacco-smokers who exploit the freedoms of Democracy by blending in with smokers (and carrying identical implements) only as a guise to stealthily engage in, um, other activities?
UPDATE!  Commenter dave has the answer:
I've said it before and I'll say it again, the only thing that can save that place is a highly publicized stabbing.
[photo (and somehow not getting kicked out of the place) by gweedo]