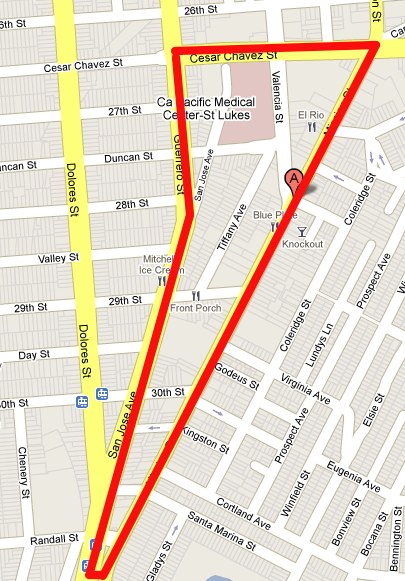 Local blogs are aflutter with this South of Chavez / SoCha thing and how it makes us all sick to our stomachs. Doye, we blew chunks about this ages ago. Instead of complaining, why not come up with something better?
Burrito Justice has already proposed La Lengua because hey, it looks like a big-ass tongue. This has been a solid choice since its inception in November, but I think brainslip is on to something with these suggestions:
ValEndcia – End of Valencia.

TriCirRoc – El Triangulo Circa Roccapulco.

NoJo ("noho") – Area in the vicinity of gap found on San Jose Ave between 27th St and 26th St (owned by the Salvation Army) where no pedestrian or vehicular passage is permitted.
See the other 7 proposals here.