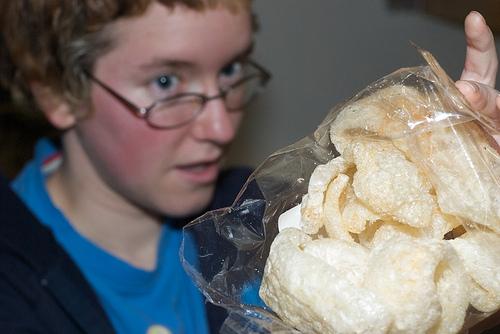 Ryan Farr of 4505 Meats finally picked a winner in our meat-related-story contest! It's Melanie K! Here's her story:
Easy. I've been a vegetarian for fourteen years, but every time my friend Alli and I get drunk at Elixir (which is less and less now, thank you douchebags) she tries to shove chicharrones down my throat. She has actually held them to my lips, gently applying pressure, while simultaneously carrying on a conversation with a group of new friends, because, as far as her logic goes, I will have to open my mouth sometimes.
Yes, we turn into eight-year-olds when we drink.
Anyway, I recently decided to give in and eat the meat, although slowly so I don't puke and poop at the same time. I have had a few bites of prosciutto here and there, and the other night I stepped into Elixir (filled with d-bags, to the brim), and Alli was there. She looked H-A-P-P-Y-D-R-U-N-K and exclaimed, "Close your eyes and open your mouth!"