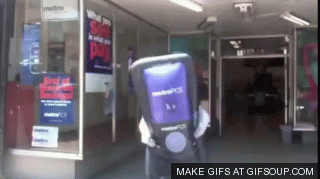 Laughing Squid posted a delightful video of this cell phone getting down in front of the Mission St. MetroPCS:
He may be puffy, but he's definitely not lazy. The person inside this inflatable cellphone suit posseses an incredible amount of energy, because he's been observed dancing vigorously for hours on end in front of a MetroPCS cellphone shop on Mission Street in San Francisco. Work it, dude!
In other news, making an animated gif these days is a fucking pain in the ass.