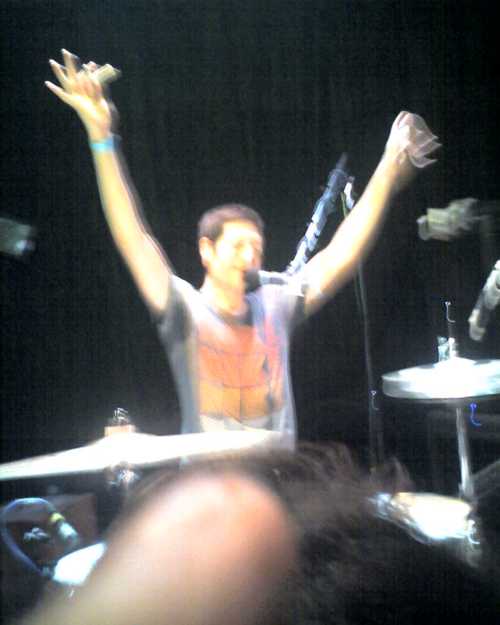 This band No Age played at that sweet Grass Widow show the other night, and they were pretty amazing too. Drum-playing frontman Dean here charmed the crowd all night with a lot of cute banter. Before one song he exclaimed, "I love playing this song!" How cute!
At one point, he mentioned that the night before they'd opened for the Foo Fighters at Wembley Stadium in London. (Wow, right? From Wembley to the Rickshaw Stop in the space of 24 hours?) He said the crowd there sort of looked at them blankly the whole time, "like we were the weirdest band in the world." The crowd at the Rickshaw Stop booed and hissed and shouted that this was lame, but Dean offered a word of caution, and a life lesson to an all-ages roomful of impressionable punk rock youth and snooty punk rock elders. "No, no, it's not lame, it's just how it is," he said, "They just don't know. They don't know what you know."
I thought that was nice. People need to be more accepting of different tastes. I'm tired of people getting all bent out of shape when I say I like Lady Gaga. But it's great that he imparts that wisdom while also acknowledging that punks do in fact know a little something extra about the world, because we do, and that's important.