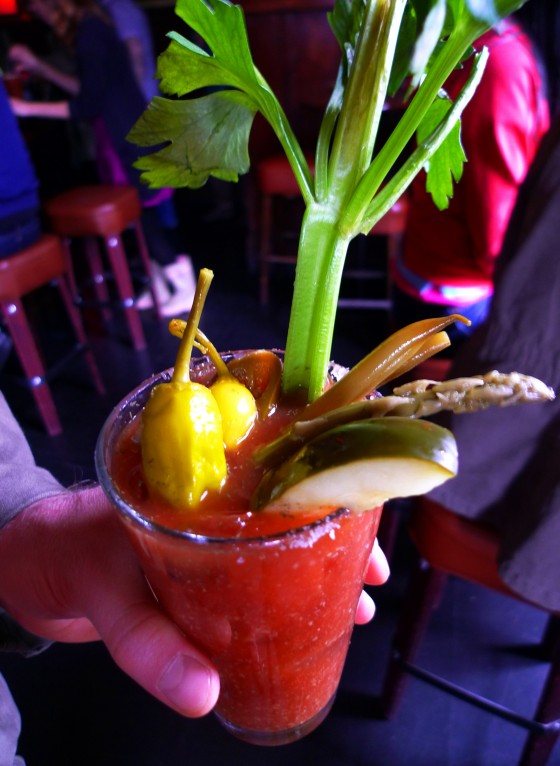 There's a reason Elixir calls their weekend bloody mary special a "vodka salad bar": at your disposal is a rack full of spices, a cabinet's worth of sauces, and there's nothing to stop you from shoveling a plate of pickled veggies into your pint. The historic saloon's extensive spread of ingredients makes it the perfect stop for those looking for a liquid lunch in a glass or complete control over the minutiae of bloody mary mixology.
Suggested listening: Journey – Any Way You Want It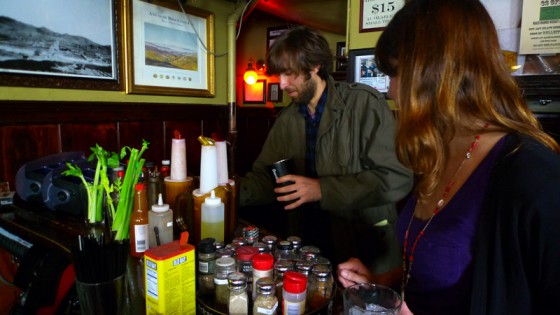 Every weekend Elixir rolls out a refrigerator's worth of ingredients for its vodka salad bar, making it a bit of a mad scientist's laboratory – the more exotic ingredients include pickled asparagus, Old Bay seasoning, and El Yucateco habanero death sauce. If you hate to cook, fear not – the bartenders will happily whip you up a majestic bloody mary and then set you free to garnish as you please.
We were staggered by the array of options at first, so we asked seasoned bartender Shea to show us some tips. He was kind enough to walk us through the steps of mixing up his "spicy-meaty" special, which perfectly balanced pickle brine with tomato juice, smoked chipotle hot sauce, and heaps of worcester, and horseradish. At the end of the day, Elixir's mix of solid house-made cocktails and open-buffet versatility earned it high marks in the MM Bloody Marython.