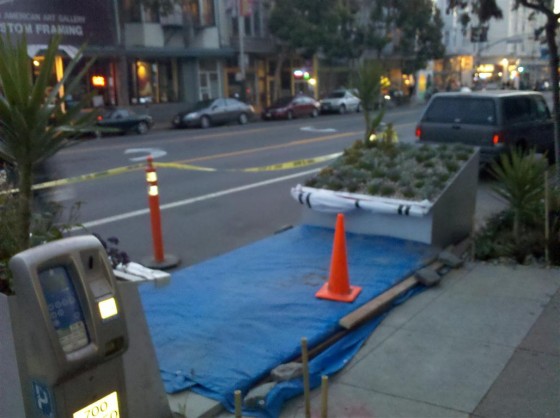 I'm not exactly sure what's going on here, but to the naked eye it appears that an interstitial parklet is in the midst of completion.  Now, this isn't your normal parklet that replaces a public street parking spot, but rather a couple of narrower planter boxes that cover the small swath of red curb between driveways.  Notice how the planter also contains very similar plants to those on the sidewalk and you get an idea of the consistency planned.  Technically, the space directly in front of the driveway should be usable at the discretion of the homeowner, and if he or she wants to have a personal parklet and incorporate any nearby red area where parking would already be prohibited, it seems like the city is on board.
I may be mistaken, but I have a feeling this is in front of Deep's house (the guy with the speaker bicycle), and this project would seem to resonate perfectly with his DIY ethos.  I wonder if this will start off a trend where homeowners on Valencia all decide to turn their driveways into parklets!
Previously:
Another parklet coming to Valencia!