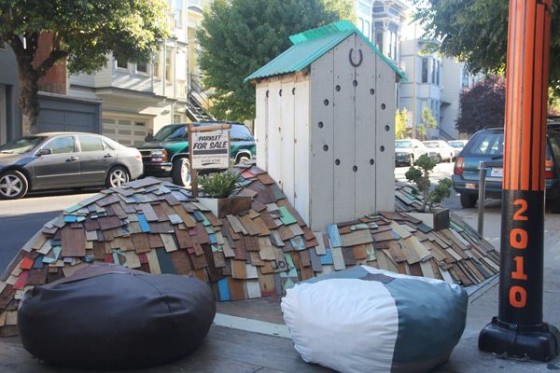 Sure, you could make countless trips to the dump scrounging reclaimed materials, or you could just buy the parklet in front of Fabric8 for a considerable markup, drop it in your yard, and call it a day.
This one-of-a-kind parklet was designed and built by San Francisco artist Erik Otto using recycled materials. It has been featured in numerous publications, documentaries, and television programs. Most materials were procured from SF Recology (aka the dump) via Otto's previous artist-in-residence there.

Amenities include 4 custom-made bean bags; low-voltage lighting system inside the house; and delivery/installation within the area. Can be purchased in part or whole. Olive tree and steel foundation excluded. Seller financing available.

More information: http://fabric8.com/parklet/2011.html
Not really my style, but I call dibs on Deep's parklet triceratops if that ever goes for sale.
[Craigslist via Curbed SF]