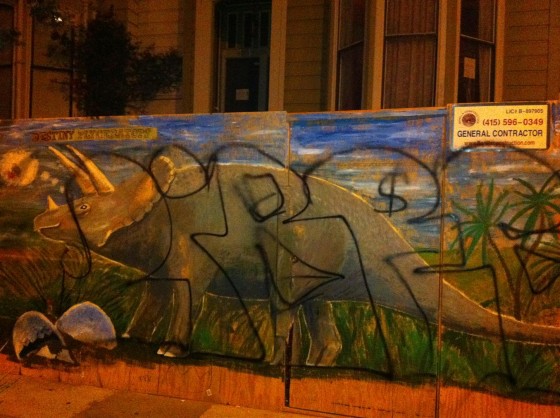 Some of you may remember from last week the sweet triceratops mural Deep's (tricycle speaker guy) pal Adrian painted on the plywood barricade erected around his garage to protect expanded construction of the city's first residential parklet (which so far has looked quite amazing).
Unfortunately, while the mural was originally designed with the idea to ward off taggers who seemed to enjoy hitting up the blank wall, it doesn't seem to have worked for long, as Deep came home last night to see even this peaceful thunder lizard covered in some illegible scrawl.  Having exhausted preventative measures, he wants to know what you guys think of the situation:
Some tagging is really lame while other tagging is considered street-art. Where do you draw the line?
Previously: