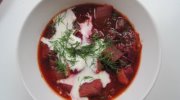 It's called Old World, and it sounds pretty good:
Hey friends and anyone interested in some great east European and Jewish soul food! We've got an awesome menu for this Wednesday packed full of can't miss items: three pierogies; chicken soup with liver dumpling; our transcendant borscht and more.
View the  full menu, RSVP and invite your friends here!