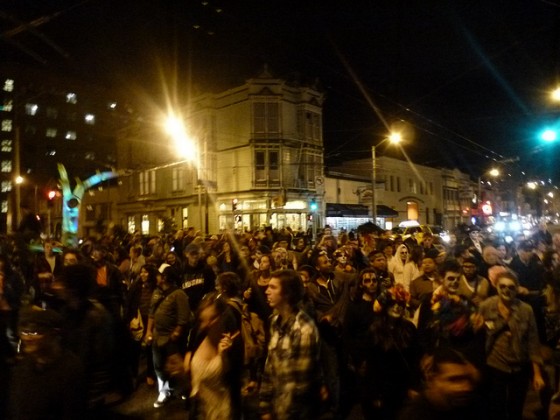 24th Street was full of trick-or-treaters getting more candy from businesses like El Farolito than residences, a nice community touch.  Dance parties were happening at various spots, but most people seemed too tuckered out from a wild weekend of Halloween festivities to commit to going out on the actual holiday.  At least these kids had plans to make the most of things!
By comparison, Wednesday's Dia de los Muertos celebration drew pretty much the entire neighborhood, both long-term locals and hipsters alike, the aroma of incense wafting through the air as 24th thronged with revelers (much like the overpass to the Port of Oakland) despite the supposedly somber mood of the festival.  It's no secret which day means more to the Mission, for now at least.
How did your Halloween (week) go?