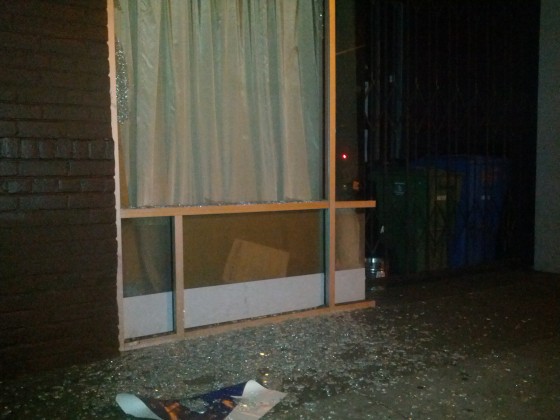 From our pal Plumpy:
I was doing laundry on 14th & Valencia, when I walked out and there were about 100 Occupy kids in face masks and bandanas marching down the middle street without a cop in sight. I was waiting on the corner to see what was going on when they just started smashing windows. The Taca Airlines place on the corner and few businesses next to it got their windows obliterated, as well as the new condos across 14th. Eventually I noticed they were being followed by three cop cars, who apologized for being too outnumbered to do anything.
They headed up to Zeitgeist and stood outside, seeming to briefly ponder smashing the windows of a busy bar before thinking better of it. They headed down Duboce, smashing car windows, throwing trash in the street, and spray painting anything that seemed interesting. After breaking Brick & Mortar's windows, the riot cops finally showed up on 14th & Mission, right outside my apartment.
The cops were shoving them back towards Duboce, but when they got there, a cop car ran into another private car. I think in the chaos the anarchist weirdos mostly got away into SOMA, presumably to wreak havoc on more undeserving people.
Then, I guess, a silver lining? A small coalition of neighbors and the local homeless joining together to pick everything back up. Yay, community? But ugh.
UPDATE: I'm pretty sure this was not an Occupy action. I apologize for the misleading headline. Plumpy wrote it in the heat of the moment, and I posted it in the heat of the moment. More on the origins of the demonstration here.