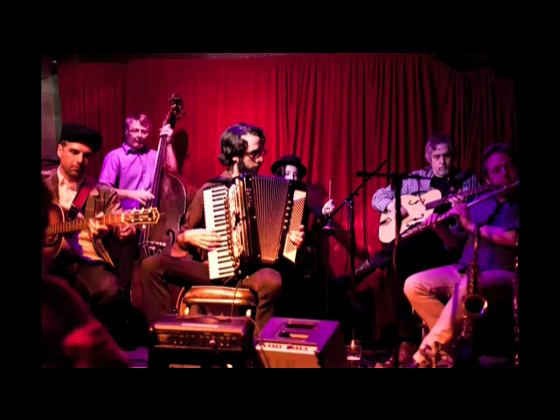 If you've ever happened upon Amnesia on a Wednesday evening and was greeted by a gypsy jazz ensemble consisting of two guitars and an upright bass, a badass percussionist, an old Russell Crowe on horns, and a mad scientist on accordion, you have seen Gaucho. In fact, Gaucho has been delighting crowds and dancers weekly at Amnesia for nearly 10 years. And if you haven't seen Gaucho, surely you have seen the mural over Amnesia's entrance, which features Gaucho's accordionist Rob Reich.
This fall, they're releasing a new record, and like most Bay Area-based creative endeavors these days, they've launched a Kickstarter campaign to help fund the release. For those of you who like to support local businesses and the arts, there are 17 days left!
Bonus: Our very own Vic Wong is featured on two of the tracks! In Vic's words, "it's only rhythm guitar, so who cares," but the answer to that is that WE CARE.