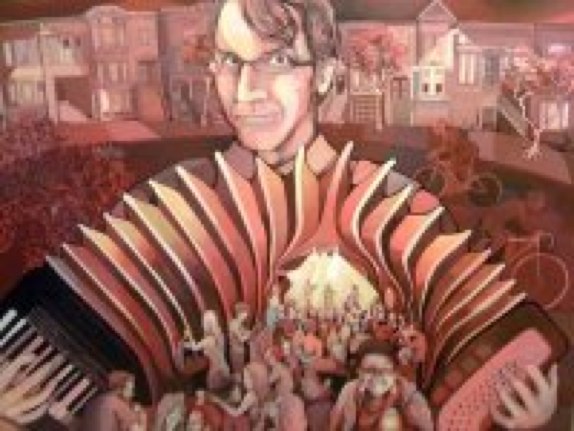 Amnesia is unveiling a new mural by Andre Karpov tonight. You may recognize his other works at places like Pizzaria Delfina, and that alley by Range. He also happens to be a great songwriter and musician.
While this mural doesn't quite have the excitement of the bear, it does feature a bunch of local mission personalities. That accordionist in the mural is none other than Rob Reich. In fact, Rob is playing during the unveiling with ragtime guitar genius Craig Ventresco (you may have heard Craig's music in the movie Crumb) and Meredith Axelrod. They play there every Friday, by the way. I wonder if Rob knows he's been muralized? If not, awk-WAARD!
Say, maybe you've been muralized too. You're just gonna have to go and see for yourself; that's why I posted an ultra low-res of the mural. Unveiling starts at 7pm. Amnesia is on Valencia between 19th and 20th. Stick around for the happy hour drinks!