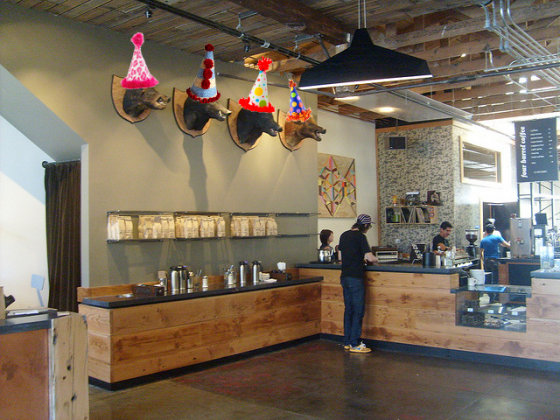 Tomorrow is 4B4B! (That is, Four Barrel's 4th B-day!) There will be free coffee and free food, skee ball just like last year, a photobooth, some animals to touch, and more.
Here's more about tomorrow's anniversary festivities from Four Barrel's manager Nicky Koch:
To celebrate four years of serving the coffee-drinking denizens of San Francisco, Four Barrel will be throwing our annual birthday bash on Wednesday, August 22nd, from 7am to 4pm. As we do every year, we will be giving away free coffee and espresso drinks all day long. And yes: the drinks are 100% free, no joke. We've also arranged for a few friends to help us add to the fun: Glass Coat Photo Booth will be setting up one of their free photo booths from 12pm-4pm, and, as always, any photo strips that people leave with us hung on our bathroom photo wall all year. Also, there will be two Skee Ball units in the back for people to square off against one another, courtesy of local Skee Ball champ, Joey the Cat. And at noon, we will be serving free slices of delicious Tartine cake and free scoops of Humphry Slocombe ice cream. For the kids, we'll have a small petting zoo set up in one of our parklet corrals, courtesy of Little Explorers Mobile Petting Zoo, and, for the lunchtime crowd, Del Popolo, an incredibly beautiful mobile pizza cart, will be posted up outside if people want some food to go along with their lattes. It's going to be a hoot.
I don't know about you, but I love hoots — it's the sound that owls make.