If you've watched Netflix's first original animated series BoJack Horseman, you probably noticed that the opening credits sequence totally rules. Maybe you also happen know that one of the composers of the theme music is Patrick Carney, drummer for the Black Keys.
But I bet you didn't know that the co-writer of the track and the guy who layered all that sweet saxophone on it is his uncle and local musician Ralph Carney, who you may have seen around town playing with Gaucho, the Cottontails, and Serious Jass Project.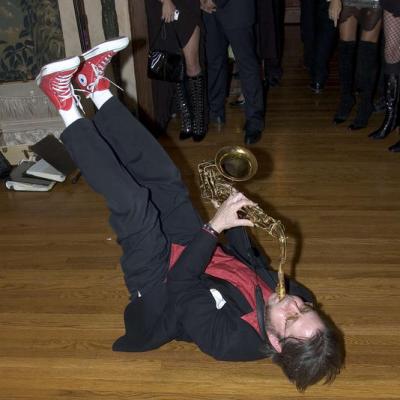 Oh, are those acts a little too underground? Well then maybe you've heard his past work with Tom Waits, the B-52s, Elvis Costello, and They Might Be Giants.
Once, Harvey Pekar wrote a comic about him: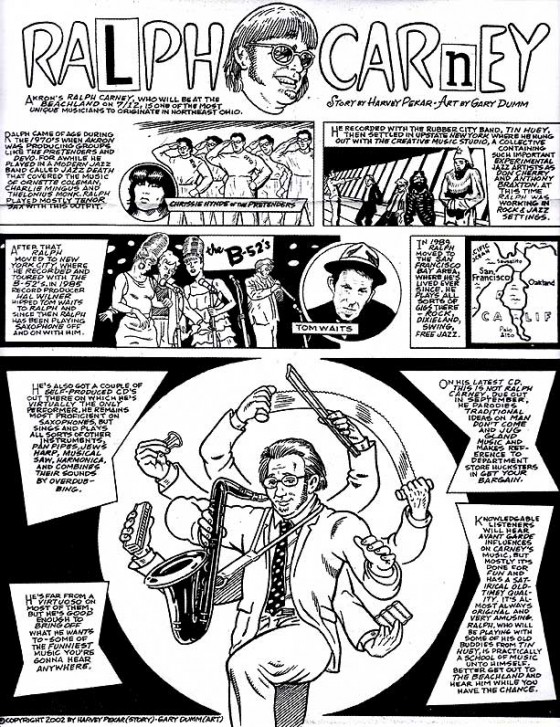 Ralph is a rare jazz musician who brings something that it's sorely needed to the genre: a sense of humor. You can't help but smile every time you see him play. But it's not a gimmick, it's in his DNA. Tom Waits once described him best: "He's guided by some other source of information. He's like a broken toy that works better than before it was broken."
We chatted with Ralph recently about the theme song, and other pretty interesting stuff:
MM: So how did you get approached to do this project?
Ralph Carney: Patrick from the Black Keys was asked to do a theme for the show and he sent them this track that we already finished last November. It was his first tune from his newly built home studio. The producers loved it. They edited it down from 4 minutes to 30 seconds or so.
It was a lucky break. Patrick and I have been trading files on and off since around 2007 but nothing had ever come of any of it till this.
MM: So you had no idea you were writing something for a show about an anthropomorphic horse?
Ralph Carney: Haha nope. It wasn't really composed for the show, but it worked for them. I got a text from Patrick in April saying, "I think we have a sync deal." I thought he meant something about plumbing.
MM: It's awesomely sax-heavy. When I first heard it I thought it was a lead guitar. Then other parts of it sound like a guitar chunking out power chords. How many tracks of saxophone are on there?
Ralph Carney: There are 3: tenor, soprano and baritone. The soprano didn't make the theme but there is some in the 4 minute version that will be out on iTunes soon, I hear. And one bass trombone part.
MM: Haha awesome. Can't wait to hear the whole thing. Patrick Carney has been pretty open about your influence on his musical career. Did you encourage him a lot as a kid?
Ralph Carney: Well I know he liked the Tin Huey record on Warner Brothers, and as he got older he thought it was cool he had an uncle who was on a record. Not sure if I musically influenced him, though.
I turned him on to weird children's records and the Shaggs when he was in high school and came to visit in 1996 or so.
MM: Oh yeah, the Shaggs influence is clear.
Ralph Carney: His first musical output which I have on cassettes is pretty out there. That is why I was kinda surprised when he played me the first Black Keys stuff. I thought Dan was an African American. Also, I didn't know he (Patrick) was a drummer. The rest is history, I guess.
MM: How long have you been in San Francisco?
Ralph Carney: Since 1995. I moved to Oakland in 1989, two weeks before the earthquake.
MM: Glad that didn't scare you off. Do you think there's been much opportunity for the working musician here?
Ralph Carney: It depends on what you are trying to do I guess, I think it is harder for young people in rock bands. Too expensive. But as far as the kind of gigs I do, it is not so bad, plenty of restaurants and bars to play old music.
You have heard it all before from Patti Smith, David Byrne, etc. Meaning here, NYC, etc. are no longer cheap like in the mid to late 70′s.
MM: Maybe I'm venting now, but it also seems like the going rate for the working session musician hasn't changed since the '60s.

Ralph Carney: Agreed! I sometimes wonder what I was thinking and then a thing like BoJack comes up.
MM: What else do you have going on musically these days?
Ralph Carney: Just recording stuff for various singers in my home studio. And then local gigging.
(Editors note: Ralph is being modest. "Various singers" includes St. Vincent. Here is his playing on the track "Digital Witness" on her record from this year.)
Ralph Carney: I just played a wedding for Roman Coppola. That was exciting, seeing Nic Cage yell at his kid.
MM: Haha the goth kid?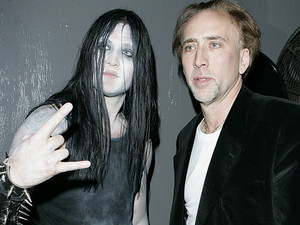 Ralph Carney: Hahaha, I don't think he was there. They were a lot younger and not goth. There was a lake and Cage yelled to be in the water where "I CAN SEE YOU!!!" (in his best Nic Cage impression)
MM: Yeah, plus goths don't swim.
Ralph Carney: Hell no!
MM: Where are you playing these days?
Ralph Carney: Well I play all over S.F. and now suddenly Alameda.
(Editor's note: More Ralph vagueness. I happen to know Ralph blows on his bizarre assortment of horns every Wednesday 8-10pm at Amnesia with Gaucho, and every 3rd Sunday at the Riptide with the Cottontails. Also various nights here at there at the Rite Spot Cafe under his own name.)
Thanks Ralph! I should also mention that all the fantastic character design in the show was done by the Bay Area (now LA) artist Lisa Hanawalt, but that, as they say, is another interview… hopefully!