Katie & Brittany sat down with Eric Reid, who is starting a new theater company aimed at providing meaningful roles for people of color. Which is awesome. SF has a real diversity problem. Specifically, the African American population is disappearing. And there is far too little effort being made to address this. Eric missed a World Series game to talk with them, so the least you could do is look at his flyer (below), which is also awesome. Here's their report: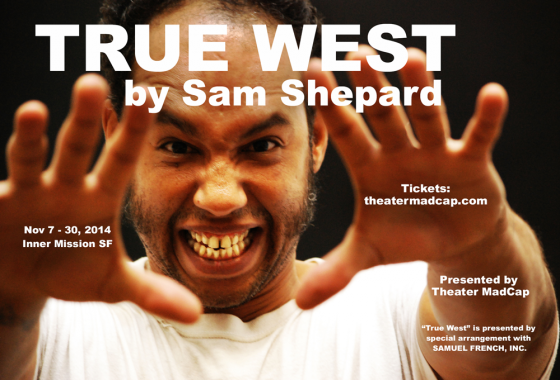 A press release came across our inbox about a new-to-us theater company called Theatre Madcap that was doing a "deliberately diverse" production of True West. Even though we knew we couldn't make the show to review it, we were intrigued. So we asked the Co-Founder and Artistic Director, Eric Reid, to coffee to tell us about his company and his show.
Katie: Tell us about Theatre Madcap.
Eric: We started it, my wife and I that is, about 2 and a half years ago. We started it really because as a black actor I'm frustrated that I can't find a lot of roles for myself, or If I'm auditioning for something it's always "ethnicity ambiguous" roles, nothing really for black folks or persons of color at all. So I thought if it's going to be hard to be in theater, I might as well do it myself and struggle for moi.
Brittany: What have you been working on so far?
E: We're big fans of the circus community and burlesque community, so we produced the Sex Bomb Cabaret which was a one-off, and we did a couple of runs of that. We produced some stuff for Burning Man, then we decided to start our full season this year. I was thinking how do I get plays? So I developed a stage reading series called Staged. All the plays had to have opportunity for casting people of color, specifically looking for lead roles for people of color. The directors I chose were either women, a person of color or someone from the LGBTQ community. We selected 10 plays and staged them over 10 weeks and we talked about diversity for 10 weeks straight.
K: What did you learn?
E: People say we live in a post-racial society, which I don't believe, but I'm optimistic because the term exists. If we can come up with that thought it means we have a desire to get to that. So I said all right, let's reverse engineer it then, let's actually define what that means. What does a post-racial society actually look like? And are we actually in it? And if we're not, how far away are we from it? Out of that playwriting series we selected Hedge that was written by a local playwright, Robin Lynn Rodriguez, and we are putting her show up in February.
B: Is the focus just playwrights that are of color, or is it also local playwrights?
E: It's all local writers. The writers don't have to be persons of color but the characters do. That was the big thing. I was on a panel about how to get your plays produced at Berkeley Rep. There was a room full of playwrights and everyone of them expressed "I can't write for persons of color." I thought "WOW, You don't know persons of color then," because you write what you know. I think the overall sentiment is that they want to come from a place of truth, and they want to write black characters but they feel like they can't. They have in their heads a certain stereotype and they don't feel comfortable writing that. So I encouraged all the writers to realize people of color are just like you. They have a different skin tone, and their life circumstances may be different. So get to know their circumstances, and that will help you develop a character. They need to erase the "I need to be this kind of person in order to write this kind of person" and eliminate that excuse.
B: So why True West?
E: We selected True West as our first full length production because I loved it. When I read it, like 15 years ago, it was the first play I read where I felt, wow that's me. I could really understand the characters' circumstances and what their needs were. So when I became old enough to play Lee I thought, well now is the time to tackle this piece of work. And the themes are universal, such as unfulfilled childhood need, sibling rivalry, addiction, isolation. Those kind of family things that are universal, it doesn't matter what nationality you are.
K: Have you ever auditioned for True West before?
E: No, and I wouldn't audition for it. This is why, I would walk in, and they take me, now they have to cast another black man to play my brother. That's a tall order right there. Oh and mom, you would have to change mom. So basically you're required to have an all black cast. I'm not into auditioning just for practice.
K: What's the challenge of wanting full casts of people of color?
E: From the company side there aren't a lot of black people left in San Francisco. The census report from 1980 the city was 19% black, by 2000 it was 12% and now it's under 6%. If there was a reduction of any species on Earth that went at that rate it would be extinction, a crisis, and that's what we have here. All that trickles down to, whenever I go to audition, every other black person I know is there for that role. So now you are stuck in certain roles. If you want to do an all black cast of something, you can't because those actors are already booked up. So it really limits the breadth and width of persons of color in theater. It's a tough thing to swallow. There's a lot of talent, but there isn't a place for them to express themselves.
K: What does that mean for the audience?
E: It means persons of color don't get to see themselves represented onstage and be inspired by that. It also means there aren't role models. If you don't see yourself in a career, you never think "that's something I want to do", or even something I can do. So that's the challenge. Then it affects the writing. If I was a writer in San Francisco, why would I write roles for persons of color if there's no one to play the part? Unless you're telling a story that's specifically about people of color like a historical figure, or slavery, it's just easier to not write for people of color. Just to write a regular person, I would think well this play is never going to get produced.
B: Do you think having people of color in the lead roles of True West changes the message of the show?
E: No, because Sam Shepard was writing was about that family dynamic. We are tapping into the idea that theater is made to share connections. If people see themselves on stage through a person of color, then a connection is made. They don't feel as separate from persons of color, which I think is becoming a big problem in the country again. We don't feel like we can relate to each other anymore. That inspires me to work even harder to find the truth of this character, so that people can see themselves in it no matter who they are, and we can create that empathy.
K: Can you tell us more about your space the Inner Mission?
E: Sure, It was the old Cell Space that had been there for about 17 years. We took it over 2 years ago. It's a multi-purpose venue in a large 20,000 square feet warehouse. It has an art gallery, a metal shop, a wood shop, and a large performance space. There are 12 artist's suites where people rent and do paintings and sculptures and a 5 bedroom apartment, that's a live and work space. It's served the community for many years. Unfortunately last year it was bought and it's going to go away. Next year they have plans to demolish it.
B: What are they going to do with it?
E: Some developers bought it and they are going to put up housing . . . it's so hard to say. Here is the effect of vulture capitalism. I have space and the ability to put up my own work which enriches the community. We also had a very good business. But the owner of the building was offered a ridiculous amount of money, so it was peace-out. They bought a big piece of property that had a real business in it. I don't know the percentage of African American owned businesses in the Mission, but with a stroke of a pen the owner reduced it. We've taken a major step back as far as minority voices go. The Mission is this vibrant cultural hub and it's getting white washed like you couldn't believe. As a person of color, to watch it happen, and then have it happen to you, it's hard not to become hopeless. So that's the history of the space. It could have been something really wonderful.
B: Are you looking for a new space?
E: I mean, we're looking, but it's like shopping in Beverly Hills. I've lived in the Mission for 14 years, I live here and want to work here. That's my passion. I want to raise my kids here, like every other generation did before us. So I don't know if I'm being stubborn or ignorant or unrealistic, but . . . I'm still looking.
B: Anything else you would like to add?
E: Our motto is deliberately diverse theater. The word deliberate means on purpose we go out and seek diversity. Diversity is not a verb it's a noun. It's a state of being, it already exists, it's whether or not you embrace it or recognize it or not. It's not something you achieve, it already is. We deliberately accentuate the fact that we are diverse and that what we put on stage is an accurate reflection is what society is.
Theater MadCap's True West opens Friday, November 7, 2014, at Inner Mission SF (2050 Bryant St., San Francisco), and runs Fridays and Saturdays at 8pm and Sundays at 7pm, through November 30th. Tickets start at $20 and can be purchased here.