Sketchfest is upon us! The time of year when all our favorite comedians descend on the Bay Area for three weeks of merriment. Ariel, our DT&D editor, and Sam, Brittany's boyfriend, are big fans of the 90s American sitcom, NewsRadio so we decided to check out the NewsRadio reunion show as our first foray into Sketchfest 2015.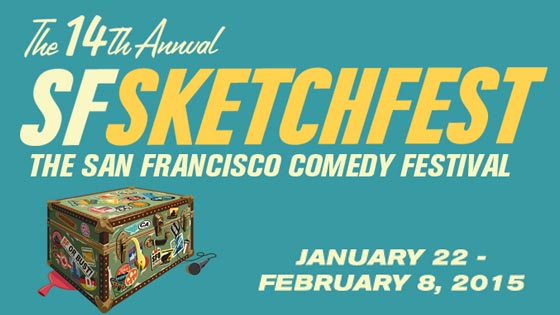 Brittany: I like NewsRadio, but I don't think I'm as big of fans as either of you are.
Ariel: When I was in college I obtained raw footage from an entire NewsRadio episode to cut my own episode. And it's really interesting, when they talked about the musicality of the entrances and exits, for a 3 or 4 camera show it was really hard to cut. You'd imagine for a multi-camera show you can just cut back and forth, but it was so carefully orchestrated, that you couldn't really cut it a new way. I feel like they took the Kramer entrance from Seinfeld and applied that to the whole show.
B: I was disappointed that there weren't more cast members there, but I think you still got a sense of what it was like to be on the show.
A: I was bummed that Maura Tierney wasn't there.
Sam: Vicki Lewis too. I loved Vicki.
A: Maura Tierney to me, maybe because I had a crush on her, she was the heart of the show to me. She was stuck in a world of bumbling cartoon characters.
B: They were talking about how Andy Dick's character, Matthew, was so crazy, and there was so much big physical comedy and she was more or less the straight woman who made it all work.
A: Overall I thought it was fun to see them.
B: It seemed like the writers were really friends with the actors.
A: I think there's always something missing when you hear people describing things like this, because you can't just get any group of really talented people together and have them do a bunch of drugs and joke around and get something really good out of it. A lot of things have to click into place, but I don't think they're really able to articulate what really made it work because I don't think they necessarily had control over that. If they did they would have had a lot of other great successes after that. It wasn't a show that everyone loved at the time, but I really loved it. I saw something in it that I didn't see in other sitcoms, about the timing, or the blending of different types of absurdist humor with more classical sitcom humor. The way that Community is overtly trying to invert stereotypes of the way comedy happens, NewsRadio was doing it in a more subtle way.
B: And it was interesting that they said when they were shooting it they always thought of it more as a play, because it really felt like that. Much more ensemble based.
A: And like Community they played with the way that different people perceived things.
S: Right, so like Matthew had a dream where all of the characters were out of Matthew's Godhead.
A: That was what you want from Sketchfest, bringing together a bunch of people who wouldn't get together otherwise.
B: So, what else are we looking forward to at Sketchfest? There's a bunch of other San Francisco shows going on during Sketchfest and they have bigger names coming through, The Business shows, the Cynic Cave shows.
A: Dark Room and the Cynic Cave both have things most nights.
B: There is so much going on that when I look at the schedule my brain short circuits. The tickets are usually a little pricey, maybe more than you would pay for an average night out.
A: But it's like Noise Pop, you just gotta take a chance and see what happens.
B: Absolutely. And if you are a podcast fan, this is the thing to go to.
The Verdict: Sketchfest is great, and you've already missed half of it! Go see some funny!
The Drama Talk: Few things are cooler than seeing famous people you're a fan of in person. It's even better when they're in a show, and not just eating at the table next to you, getting creeped out that you keep staring at them. There is always good comedy in the Bay Area, but you get some of the best of the it during Sketchfest. It's an exciting time to see a show because of all the energy.
The Drinks: The show let out in the middle of the day on a Saturday, and since it was an average (frighteningly rainless) glorious January day, we decided to go for a walk over to Polk Street. We opted for the fireplace seats at Lush Lounge. Ariel got their happy hour margarita, Brittany got the happy hour strawberry fizz, and Sam got the happy hour gimlet, and we scoured the Sketchfest program guide to plan the rest of our itinerary.
Sketchfest runs through February 8th in venues around the Bay Area. Check out the schedule on their website, or stop by a host venue and pick up the hard-copy program guide. The hard-copy is a little easier to peruse, but the website will tell you what's already sold out.