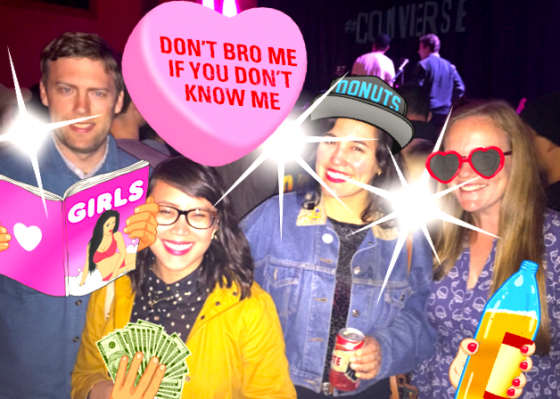 On Friday night I watched the Cavs-Hawks game at Pop's, ate a really good burger at the Big Rec (now softly open at 3066 24th Street), saw Cocktails open for Wild Nothing at the Chapel, did a quick Jaeger shot at Doc's Clock, danced like an animal during Lustmord's set at the Gray Area Festival, ate two bacon-wrapped hot dogs, danced a little more at Baobab, ate birthday cake at my cousin's house, ate another bacon-wrapped hot dog and then went home.
Along the way I ran into a bunch of people, one after another:
Lauryn McCarthy, formerly of the Bold Italic (defunct website)
Jess Stuenkel, of Tuff Signals (garage rock on the radio)
Sean Rawls, of Still Flyin' (legendary SF band)
Bel Poblador, formerly of CNN (media conglomerate)
Melissa Gordon, of Prima Bike Maintenance (greasin' up yr chain)
Pro Fan Marisa, of Professional Fans (music lovers)
Chad Salty, of Salty Artist Management (music lovers)
Josh Farrell, formerly of Mollusk Surf Shop (surf shop)
Rob Queenin, formerly of Thieves Tavern (tavern)
Omar Mamoon, of Dough & Co (yummm cookies)
Jono Brandel, of Patatap (best thing ever)
It was pretty fun. It reminded me of the San Francisco of 2010 that David Enos wrote about so poetically.