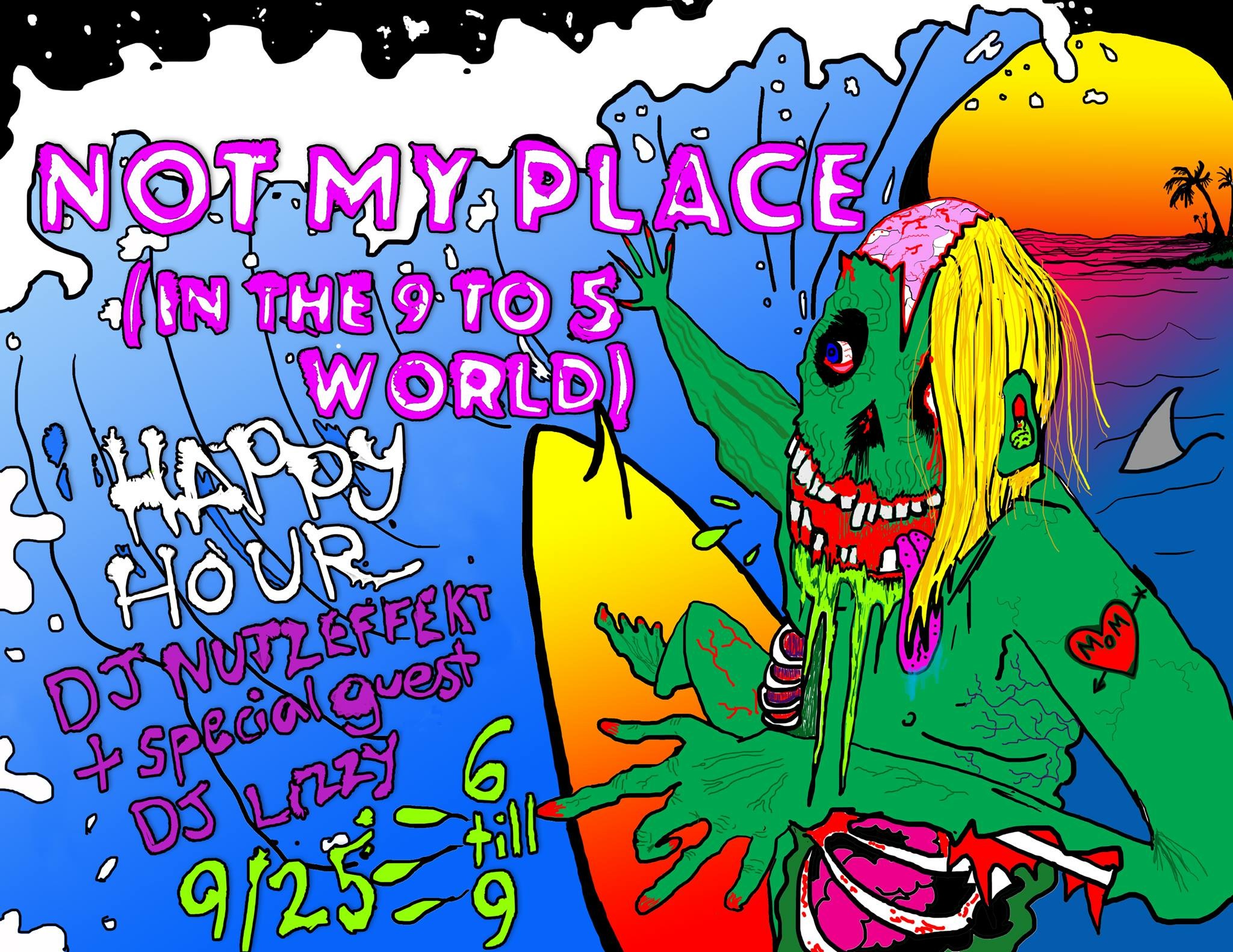 [Editors' note: DJ Nutzeffekt is an employee of Mission Mission, so maybe this is some kind of conflict of interest? No big deal though right?]
Well shake it off! We're giving you another reason to love Mondays at Pops Bar. Introducing a brand new happy hour, NOT MY PLACE (In the 9 to 5 World), on 4th Mondays from 6-9pm. You'll probably recognize our resident DJ Nutzeffekt from American Tripps. Tonight he is joined by special guest DJ Lizzy (Tuff Signals, BFF.fm). Expect Rock 'n' roll old and new, all vinyl with a special Oh Sees set to prep you for their show later in the week. Remember, when life gives you Monday, treat it to happy hour!
Check out this week's full entertainment line up at Pops Bar:
9/25/17 MONDAY
Not My Place (In the 9 to 5 World) Happy Hour
6-9pm No Cover
NOT MY PLACE (IN THE 9 TO 5 WORLD) HAPPY HOUR
***INAUGURAL EDITION!****
w/ special guest DJ Lizzy (Tuff Signals, BFF.fm)
+ resident DJ Nutzeffekt (American Tripps)
Rock 'n' roll old and new, all vinyl
Jack pouring drinks
✷✷✷And btw Lizzy (all the way from Detroit *just for this gig*) is gonna spin a very special set of all Oh Sees classics, to get everybody PSYCHED for the Oh Sees shows later in the week at GAMH✷✷✷✷
Not My Place (in the 9 to 5 World) Happy Hour
4th Mondays from now on;
9/26/17 TUESDAY
Trivia Tuesdays
Pops Quiz
$2 to play
8:30-10:30PM
Join us every Tuesday of the month and test your wits at Pops trivia night "POP's Quiz" where your brain may get stump on categories such as Pop's culture, Sports, Movies, Music and more, with little snippets of audio and visual effects too! So come on in for some good ole fashion competition and a night of drinking with the crew! It is a 2 dollar cover and winner gets the pot!! so tell friends and family because the more peeps the steeper the cash prize is!!
MUSIC THERAPY
Electro-Cumbia Breaks, Hip Hop, Nu Latin Beats
9PM-1:30am
No Cover
21 UP
9/27/17 WEDNESDAY
Sterling Soul Night
Soul/R&B/Doo Wop/Girl Groups ALL 45s
with Matty Holt and guest DJs
6-9pm
No Cover
DOWN TO FUNK
9pm-2am / No Cover
Down To Funk is a new monthly at Pop's Bar featuring funky grooves and soulful rhythms that will make your booty shake and your head nod. Resident DJ's Mooselini the Soul Fascist (Mustapha Popal), Ohhellnoel (Noel Dunlap) and D.Hop (Dave Hopkins) will be providing the soundtrack for the night.
9/28/17 THURSDAY
The Pop Files
1pm-8pm
A celebration of Sci Fi and the Supernatural at Pops Bar. Ponder the mysteries of universe with us.
DJ Rick
Happy Hour entertainment 6-9pm with DJ Rick
BFF.fm Night
Rotating DJs from BFF.fm radio!
BFF.fm presents Hang the DJ: Post-Punk & New Wave w/ ZeroOne
9PM-1:30AM
No Cover
21UP
9/29/17 FRIDAY
Happy Hour Entertainment with Tell River 6-9pm
The No Theme Super Dance Jam
with DJ Sonny Phono spinning your favorite dance jams
9pm-2am
No Cover
9/30/17 SATURDAY
Brunch Mob
10am-3pm
with DJs Milton Badley and Snelly Davis Jr. Soothing classics to accompany your Bacon Bloody Mary.
Catmandu Takeover
Catmandu Takeover of Pop's Bar. Free entry. All your favorite Catman DJs will be playing their finest tunes. All proceeds benefit Catmandu Camp.
9pm-2am
No Cover
10/01/17 SUNDAY
Spill The Wine
5-10pm
CUMBIA * CHICANO ROCK * LATIN SOUL * BOOGALOO
DJs Vinnie Esparza, Guillermo & Slopoke
No Cover
21 UP
POPS BAR
2800 24th Street @ York
San Francisco, CA 94110
www.popssf.com