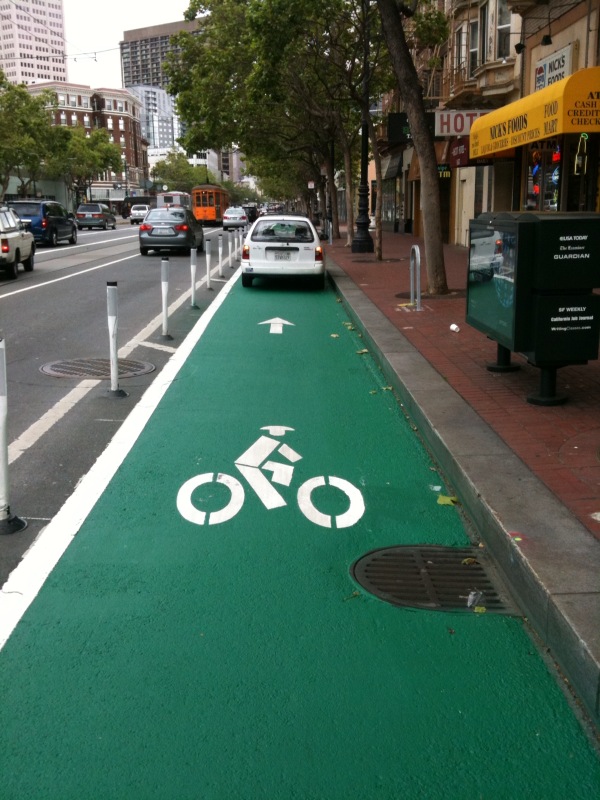 Cycle-commuting reader Mickey B. (who also happens to have a great mob nickname) was unable to enjoy the exhilaration of riding down the freshly painted green bike lanes on Market Street this morning thanks to this color-blind driver.  He adds:
A friend of mine passed it after I did and said the car was unlocked and there was a purse on the seat…
I wanna know how this car even managed to get in there!  She obviously wasn't able to fit through those narrowly spaced posts, so she must have entered the bike lane at the beginning of the block, proceeded about halfway, and then stopped her car and got out.  Do automobile drivers really feel so entitled that they think they can get away with this?
To be fair, on the commute this morning I noticed that even the majority of cyclists themselves prefer to avoid the bike lane when they can in favor of the street, green paint or not (although this stretch of Market is also off-limits to private vehicles so it's inherently safer):
Anyway, in general the separated green bike lanes are a huge win for cyclists everywhere (not just in SF), and I'm all for them since they encourage cautious people who might be too frightened to bike amongst the cars and buses to try out cycle commuting in somewhat safer fashion.
Don't forget that this Thursday, May 13, is the 16th annual BIKE TO WORK DAY, so remember to pedal out with your cyclist pride on full display.  As usual, the SFBC will be hosting recharging stations throughout the city with free schwag that's actually useful and awesome (bags, patch kits, water), so volunteer if you have a chance!  See you out there!
Previously:
Posts Be Posting Up All Over Market Street