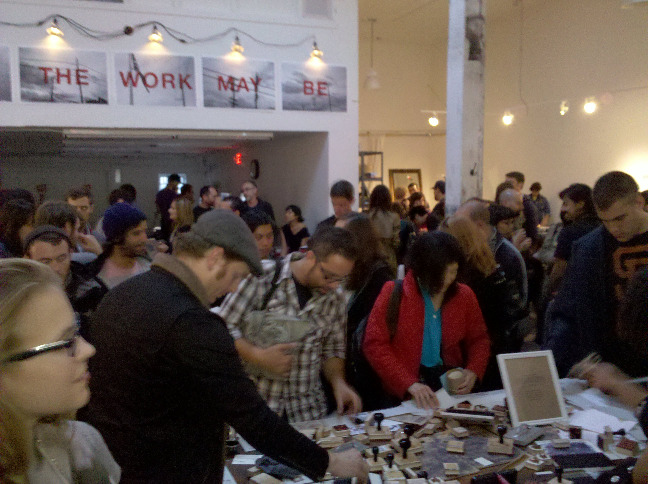 One tried and true way to ingratiate yourself to the local community is to host a free event with a popular band and an open bar.  In this, the quite controversial Levi's pop up on Valencia does not disappoint.  We arrived on Saturday evening and were treated to an enthusiastic crowd of folks who were just as curious to explore the various intricacies of the shop as we were.  Tables around the space were teeming with lettering stamps, screen presses, Macs, and all sorts of other design supplies, and visitors were encouraged by the staff to get their hands dirty.  Of course, the bountiful supply of free Wild Turkey on the rocks did not hurt either.
By now, it seems as though everyone has expressed their opinion about this possibly revolutionary endeavor.  Could they have made more effort to engage the already prevalent printing shops in the neighborhood, such as Ape Do Good, in an attempt to bolster those businesses?  Sure, probably.  But given their impressive list of local community collaborators, such as Southern Exposure and the Women's Building, this seems a lot more benign than many initially assumed.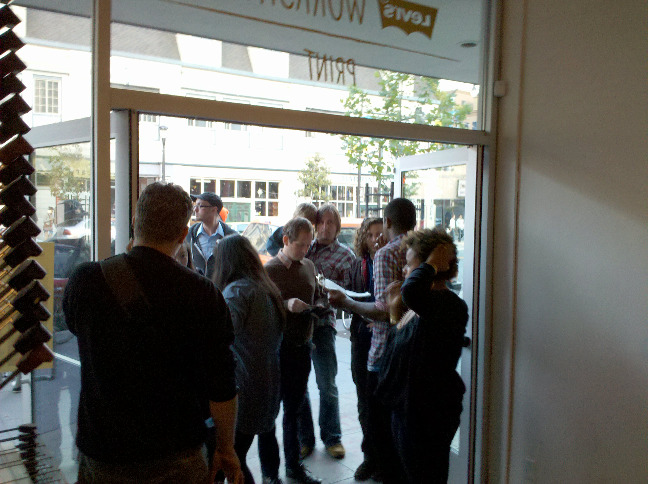 One thing that I definitely would have done differently about the evening though:  Even though it was free to attend, guests still needed to RSVP on Facebook prior to the event.  While I understand the rationale and crowd-controlling aspects of this decision, it unfortunately promoted this weird LA club vibe with people lining up to get in and staff with clipboards at the front door to see if they were "on the list."  I feel this could have been made to be a little more inclusive.  However, once people got in, the joy on their faces was apparent as they were treated to free drinks and the musical stylings of local favorites Honey.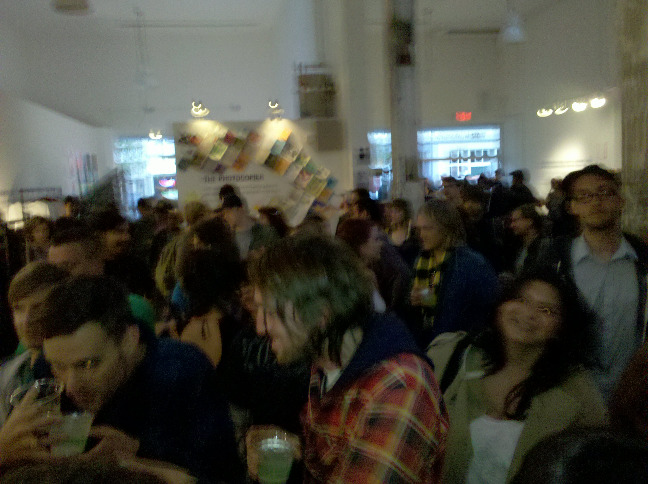 We spoke to Dan, the shop manager, about the ambitious project's future.  The plans are to vacate the space by the end of August (so Charles Phan can open a high-end banh mi spot or something) and move to New York, where instead of printing presses, the focus will be on photography (not just digital, but also dark rooms with stop bath and photo flow  and all that business).  Then, if things work out, the next spot might be in New Orleans to open a pop-up music recording studio.  It really seems like they're taking this community thing seriously, but man, I wish we had gotten the photography or recording pop-ups!  I guess when Levi's thinks of San Francisco, they think of T-shirts.
UPDATE!!!  I neglected to mention the purpose of the event, but luckily commenter Patti fills us in:
That particular Levi's event was a launch party for the 4th issue of First Person Magazine, which was printed on the premises that day, along with three limited edition artist prints.  FP Mag, made by local Betty Nguyen,  was chosen as one of the projects for the workshop.

We initially were wondering how it would all go off and it actually went really well.  I don't think the RSVP list is meant to be exclusive but is simply a way to manage the head count to keep the SFFD happy.
Previously:
What Do You Think About the Levi's Workshop on Valencia?