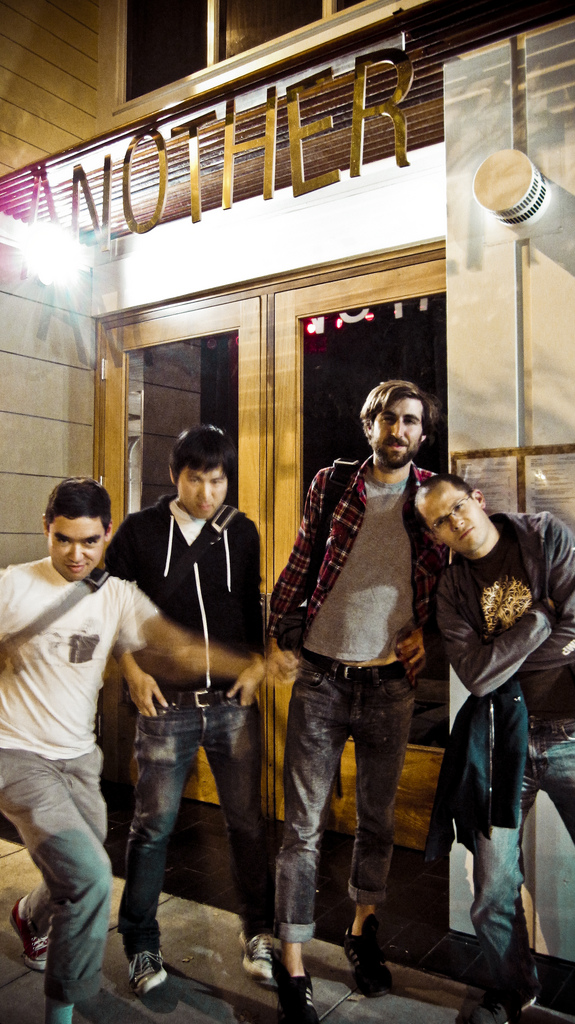 You've probably noticed the strange words "Another Monkey" pop up on the ex-Conduit restaurant space on Valencia and 14th. No, it's not a pet store for repeat primate buyers, it's a Thai restaurant. The owner has another Monkey-related restaurant in San Francisco, so you can think of this spot as it's sequel. The "Blade II" to it's "Blade", if you will.
Another Monkey's events manager Miranda was kind enough to invite us down with an enticing $50 gift certificate. Turns out all of us could make it, so how could we refuse? It sounded nice to do a team dinner that didn't include tater tots for a change.
Read on for the full scoop on this spot!
Decor
The first thing I noticed was that the whole place is framed in an extensive series of tubes that could potentially deliver truckloads of Ted Stevens' email. There's no way these CONDUITS really contain real wiring unless they are running a Pixar server farm in the basement. Allan pointed out that a good move may have been to replace these with something more appropriate like bamboo, proving he has a future in interior design if this whole blogging thing falls through.
The back wall is lined with a white lightbox wall illuminating a bunch of small buddha idols. I don't know if these were authentic ancient artifacts. I would have tried to inspect one, but I didn't have a suitable weighted bag of sand to put in it's place. Can't risk taking a poison dart to the neck these days, not in this economy.
Drinks
I left to use the bathroom and the gang had ordered this $17 thing for me: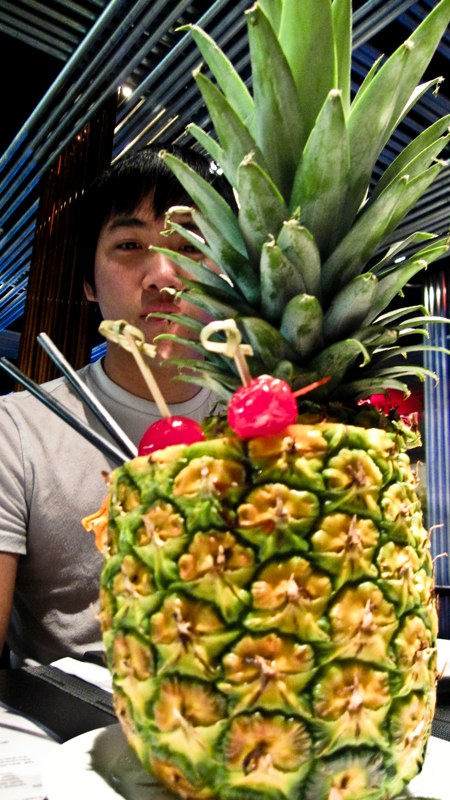 It had two straws but I drank the whole thing myself because no one else was helping. It was sweet and delicious, but probably not something I would order if the price was not partially subsidized. The other cocktails were fruity, tropical affairs. Allan ordered something with bananas in it. He was not crazy about it. Of course, there were a lot of these to fall back on: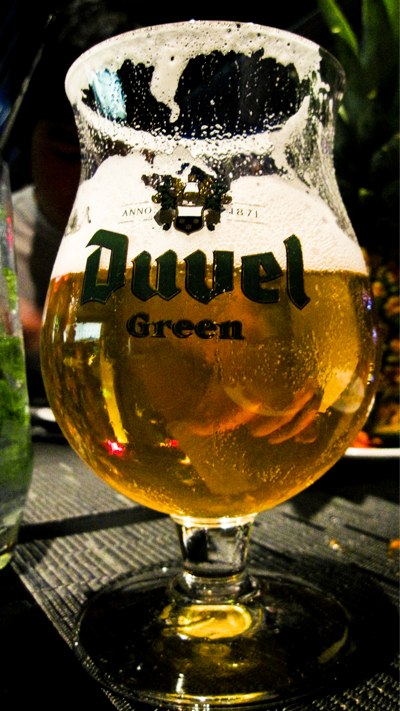 Bathroom
I have never been so stressed out in a bathroom. First of all, the stalls are semi-translucent. Check out the peep show I got of the neighboring plant: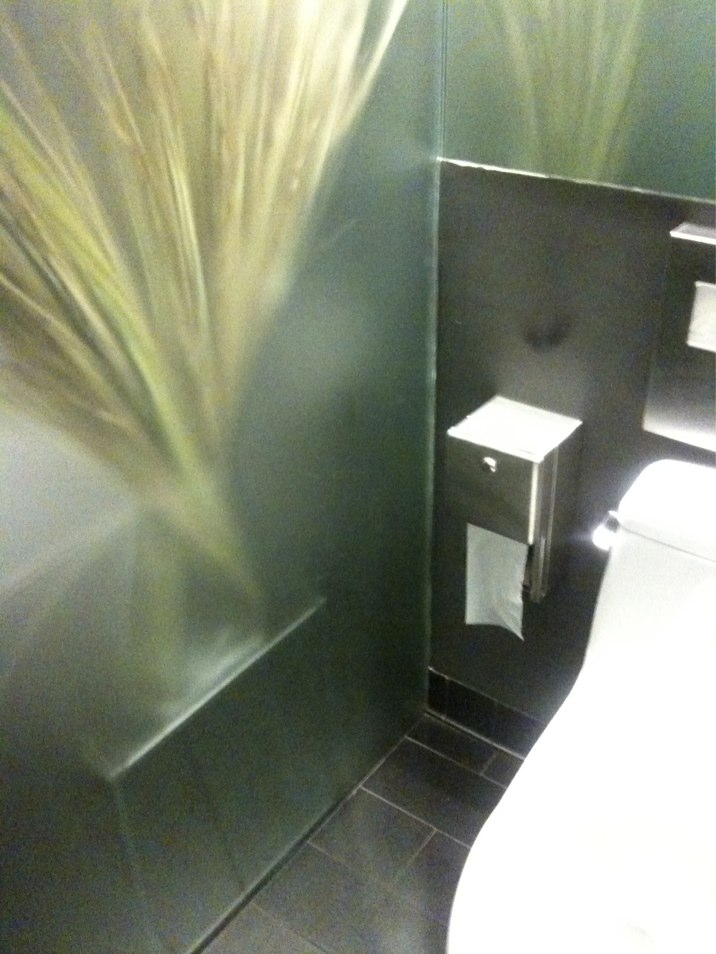 When I heard someone walk in the bathroom, a wave of panic overcame me as I stood there doing my business. I mean, now someone knows that I am peeing and can see a cloudy silhouette of me doing it! For some reason, I couldn't think of anything more mortifying. I considered choking it off mid stream but thought better of it. That never ends well.
Next area of stress was the sink. It was a modern design where the basin was just one long, slightly angled stone plank. My first reaction when turning on the sink was, "shit, I'm going to get water on my shoes and pants." Turns out it's angled just so, and the water is low-flow enough that gravity takes its course and transports the water safely away from you. Whew.
There was also this inexplicable sign in the bathroom. I guess they have had problems with these things in the past: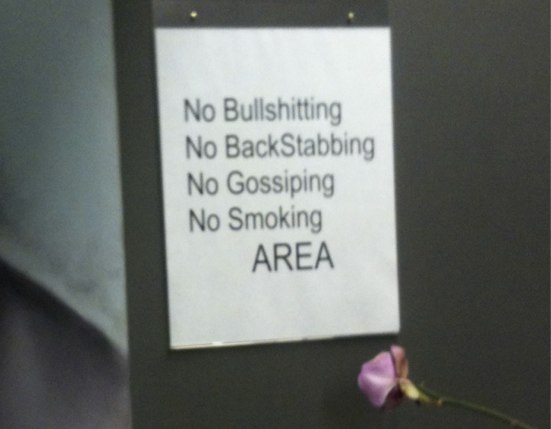 Food
Oh yeah, this is probably what people really care about, right?
We ordered a lot of appetizers to get a good variety. One clearly Mission-fusion dish was the Thai style Tom Yum Shrimp Nachos. They were great. Thai seafood flavors paired with a jumbo crispy tortilla chip. Only bummer was I wanted two of them and we only had enough for one each: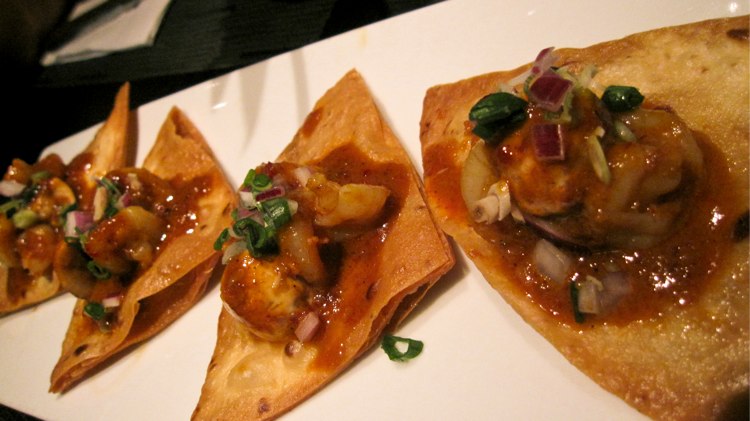 Andrew was impressed with the Tom Ka Gai soup. This is saying a lot. I've eaten Andrew's Tom Ka Gai many times in the kitchen of Cloyne Court at 2am and it was the best I've ever had. The visionary stoner concept of throwing in some Top Ramen sealed the deal for me. Yes, of course I was drunk then. Anyway, I thought Another Monkey's held up admirably.
For entrees, we went with the Pad Thai, the Thai chef equivalent of performing "Freebird". It was pretty standard fare. Not the best I've ever had, but the ingredients were fresh and tasty. Maybe I'm just bored of Pad Thai: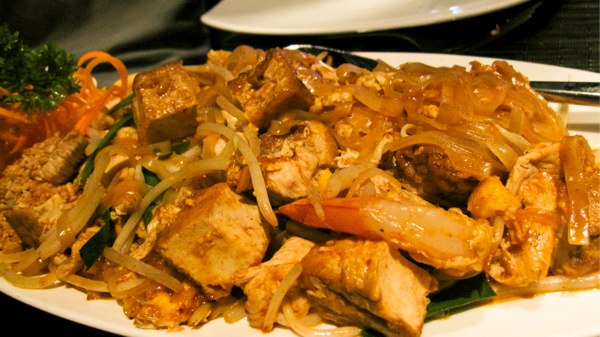 This was the duck red curry. It was freakin' awesome. I can definitely say it was the best this I've ever had. The duck meat was tender and full of gamey, ducky flavor. This went well with the sweet and spicy curry and vegetables. Ducks are delicious: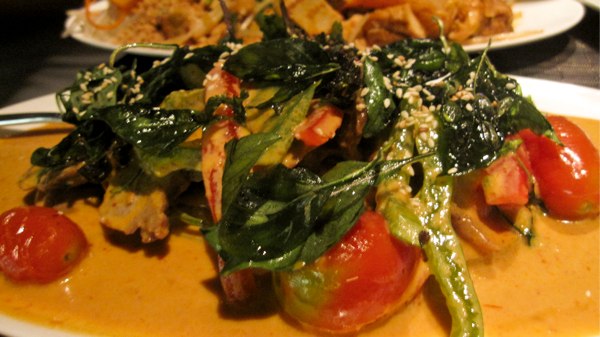 We also ordered the Baked Black Cod marinated in salted soybean paste. I've never eaten black cod before, but let me tell you: it is one amazing fish. Allan says that some people call them "butter fish" which I can only assume means they have a nice body but ugly face. Either that or the fish melts in your mouth like butter. It was a very rich and buttery dish that I thought was prepared wonderfully. I also loved the bed of greens it was sitting on. Probably the highlight of my night: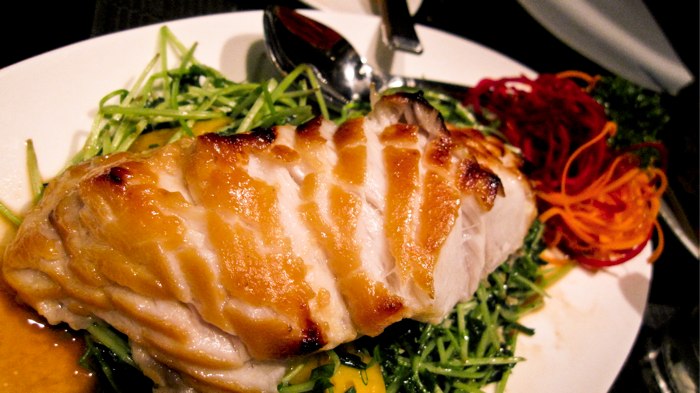 Hot tip, if you want a rice side, get the brown rice. It comes with a lot more stuff than the white rice: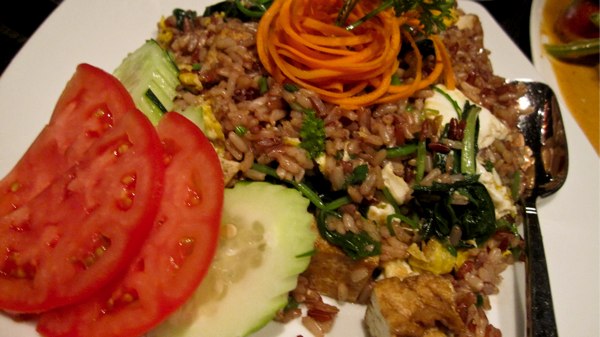 Conclusion
Service was excellent, but then again, we were the only folks in there since we came in about 45 mins before closing. It was a weekday, so perhaps they are busier during weekends. I cautiously made a reservation earlier in the day, which turned out to be totally unnecessary.
The standard dishes were good, but probably not the best you'll ever have. But that's well travelled territory. If you get more adventurous, the more exotic entrees are really, really great.
Try to go to the bathroom before you get there.
If you're after cheap Thai, make the trek to the 'Loin. Price wise, the entrees run between 10-20 bucks, making this more of an occasional dining spot comparable to Osha. Come to think of it, we quickly exhausted our $50 and ran up $120 more, which was probably their plan all along. Well played, Another Monkey. Luckily 3 months of your ad clicks covered most of that.
Thanks to Miranda for having us out. We had a great time!
[Good Photos by Ariel, Crappy Photos by Vic]