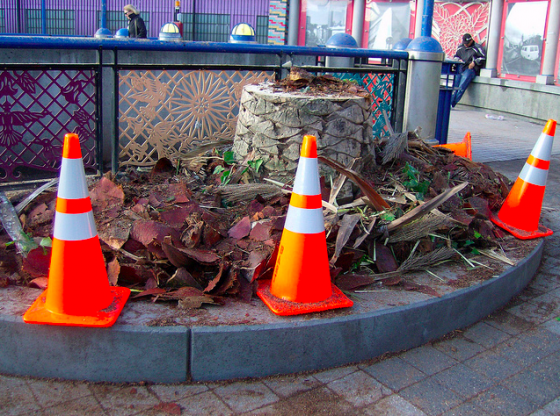 Our favorite irate aged mission fella brings us this news:
Last night, all the palm trees at the 16th Street & Mission BART Plazas were sawed-off — both sides. Don't know why, but the BART website says that, back in 2009, one tree had to be removed because it was dead. These trees did not appear to be dead, but it might have been a case of vermin control — they were hosts to hordes of pigeons — in which case, blame Swan.
Anyone know the real reason why the trees were extracted? My first guess would have been coconut related injuries, but I doubt these oversized monocots were fruit-bearing.
Update:
Mr. Eric Sir took a nearly-identical picture! Is Mr. Eric Sir Cranky Old Mission Guy's alter ego?
Update 2:
triple0 adds that this might be a part of a public works project:
In 2009 at the Mission Streetscape Public Workshops, they said that BART planted them without considering the root systems, so they were stunted and going to be removed at some point, likely in preparation for re-doing the BART station. But, that might have been 24th Street – I can't remember.

City's website about it: http://www.sf-planning.org/ftp/CDG/CDG_mission_streetscape.htm