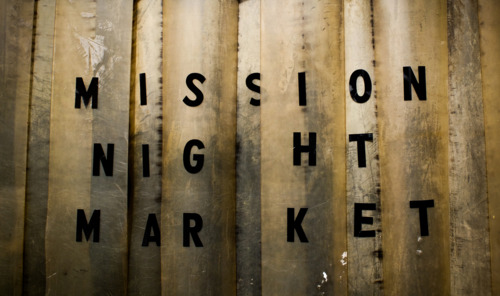 Ken Ken Ramen is hosting a 3-day "Asian night market" style event with local artisinal crafts and food vendors at their space on 18th St.:
We love Asian Night Markets full of interesting stalls, vendors, food, and craziness — so much so that we're turning our noodle factory into a three night Mission Night Market! Set up next door to Ken Ken Ramen at 3376 18th St, Mission Night Market will run Thursday, Friday & Saturday, hosting independent vendors, crazy artists, and more. Themes and vendors will range from Surfers to Vintage to Palm Readers to Jewelers to Japanese Dessert Makers & more!

Look for a wild selection of local artists setting up shop and hawking their goods at this evening bazaar. Three nights only! March 8-10 2012. 6pm to Late.

Selected vendors and more include:

Bobaguys
ScuttleFish Vanagon Surf Mobile
SanFlan Japanese Desserts
Palm Reading
The Gypsie Shop by Curator Amanda Krampf
Alite Camping Equipment
JackKnife Outfitters
Revolver Select
Cureall Vintage
Auger + Ore Jewelry
Webster Reading Room
Roppongi Records
Aoi Yamaguchi
Kitsch Art Gallery
Valerian Jewelry
Dillon Montara Clothing
Adam Lam Furniture
Nice try guys, but we all know it's not a real Asian night market without knock-off Adidas shoes and booth after booth of iPhone cases.
This goes down at 3376 18th Street 6pm to late Thursday, Friday, and Saturday (March 8th, 9th, 10th).