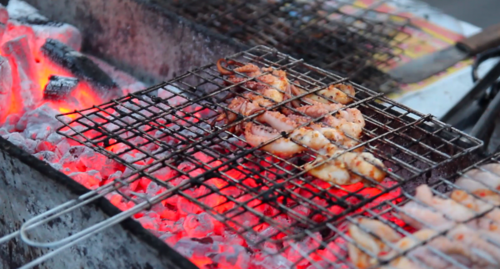 The talented ladies from Rice Paper Scissors are back this Saturday with another popup dinner straight from Saigon, and this time they're bringing you the Vietnamese answer to fried chicken. Com Ga is the name of the game, a treat which Katie and Valerie first stumbled upon in a garage in Saigon where they witnessed folks cooking this  in a vertical drip fryer which basically cooks the heck out the chicken by streaming hot oil all over it. The perfect pre-Mother's Day meal!
Check out all the details here, and full menu after the jump.
RICE PAPER SCISSORS BRINGS VIETNAMESE FRIED CHICKEN AND RICE TO THE TABLE
Southern cuisine is what dominates the Vietnamese food scene here in the States — but it doesn't mean we've seen it all yet.
For their upcoming Private Kitchen, called Com Ga Canteen, Rice Paper Scissors is sharing some of their new discoveries from Saigon. The main course is Com Ga, Fried Cornish Hen served with Red Rice (made from annatto seeds and tomato paste).
Since it's getting warmer, Rice Paper Scissors is also busting out the charcoal grill to recreate the smokey street bites they had in Vietnam like Grilled Baby Octopus and Prawn Spring Rolls — which guests will make at the table using fresh herbs, rice noodles and special extra-thin rice paper brought back from Vietnam.
May 12, 2012 / 7-10pm
Location announced the day of
$80 + tax & BYOB
Tickets can be purchased here
More info here
Menu
Grilled Octopus
charcoal-grilled baby octopus with lime and chile sauce
Quail Balut
fertilized quail eggs
Saigon-Style Green Papaya Salad
housemade prawn chips, beef jerky and Vietnamese herbs
Pork and Cabbage Imperial Rolls
charcoal-grilled and fried imperial rolls
Chao Long – Offal Rice Porridge
with Marin Sun Farms offal and Chinese doughnuts
DIY Prawn Spring Roll
roll your own spring rolls with charcoal-grilled prawns, rice noodles, Vietnamese herbs and special extra-thin rice paper we brought back from Vietnam
Com Ga Chien – Fried Cornish Hen with Red Rice
1/2 fried hens with red rice, made with annatto seeds and tomato paste; served with greens
Strawberry Ice Cream with Candied Kumquats
made with condensed milk and Swanton Berry Farm strawberries